Soup: A framework
Nothing beats a bowl of homemade soup on a cold day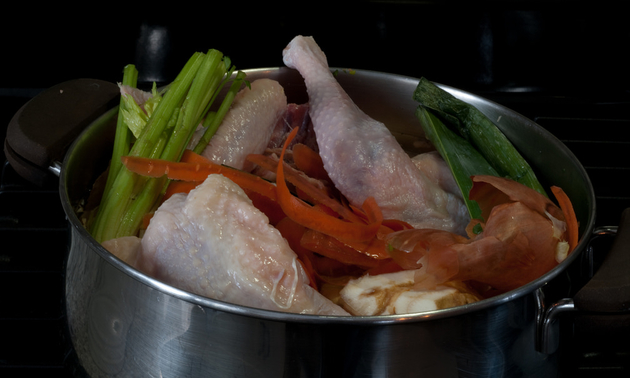 Your first meal was probably soup. Your last meal will probably be soup. And in between you will enjoy bowls and bowls of nourishing soup comfort. Every culture from every continent on the globe has their version. There is nothing more elementally satisfying than a bowl of hot soup on a bone chilling day––even better if someone who loves you makes that soup with their own hands. Here are instructions for you to make homemade soup for the ones you love.
I remember the chef-instructor at Southern Alberta Institute of Technology telling us apprentices that you can only make something delicious with delicious ingredients. Choose the best ingredients you can. Wilted vegetables are fine for stock, but mouldy, mildewy or slimy are not.
Soup is a simple preparation of stock with the addition of vegetables, starch and protein as garnish. It can be as simple as bone broth or as complex as lobster bisque. Here is a framework to get you started on your own comforting soups.
Broth
Every soup starts with some kind broth: meat, poultry, vegetable or fish. Make a broth by covering bones and vegetables with cold water, boiling and simmering. I purchase stewing chickens from Lucky food store in Edmonton for $1.99 each. These are tough old birds, but full of flavour and tenderized by simmering for soup. I pick the meat off the cooked bones and return it to the final soup at the end of the cooking. Roasting beef, pork or lamb bones prior to making broth lends a rich roast flavour and mahogany colour to the final product.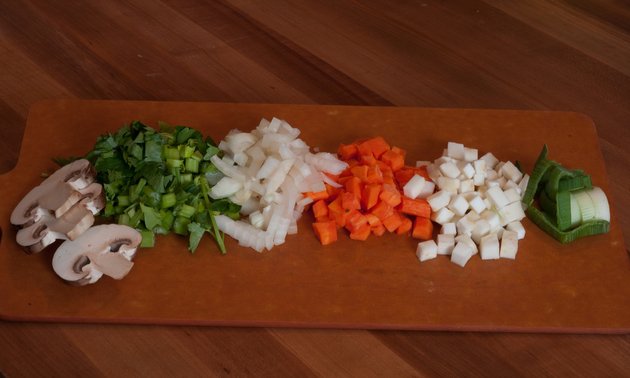 Vegetable garnish
There are nearly always celery, onions and carrots in soup but you can add whatever vegetables fit the flavour profile of the soup from green onions to celery root, mushrooms, leeks, garlic, beets, zucchini, butternut squash to fancy vegetables like eggplant and artichokes.
Starch
Unless you are making a thin soup on purpose, you will want to some kind of starch to give the soup body. Rice, barley, noodles or potatoes are a good place to start.
Protein
Chicken, duck, goose, beef, lamb, pork, sausage, bacon, ham, venison all make good enhancements to soups flavour and add nutritional value. Even tofu is a great addition.
Adjust the seasoning
Salt is the last thing you add to enhance the flavour after black or white pepper, concentrated chicken stock or beef stock.
Chicken vegetable soup with barley
Ingredients to make broth:
1 laying hen cut in four pieces and/or leftover chicken, duck or turkey bones from previous meals if stored safely refrigerated or frozen
Two large carrots, coarsely chopped in ping pong ball sized chunks Two medium yellow or white onions cut in quarters
2 cups of celery stems, coarsely chopped (I prefer Asian celery which has a much finer stalk, is mostly leaves and is loaded with flavour.)
Peelings from carrots, celery root, onions, the green leaves from leeks
4 litres of Water
Directions:
1. Add all of these ingredients to a large (8-10 litre) stock pot
2. Cover with 4 liters or a bit more water
3. Bring to a boil.
4. Cover and simmer 3 hours.
5. Remove the chicken to a dinner plate, cool, pick the meat off, dice and refrigerate for addition to the soup.
6. Cool, drain, and reserve the broth for soup.
Ingredients to make soup
2 cups of medium diced carrots
2 cups of celery stalks and leaves (prefer Asian celery for flavour) finely diced
2 white onion, peeled and finely diced
1 celery root the size of an apple or bigger, peeled and diced medium
1 leek, washed, top third of green removed (for stock) sliced lengthwise and chopped
1 cup of sliced brown mushrooms (optional if you're not a fan)
3 tablespoons olive oil, or chicken fat 1/2 cup (or more) of pot barley (careful with this stuff it swell to three times its dry size)
Salt
Black pepper
Concentrated chicken stock if required and desired
Directions:
1. Wash and dice vegetables.
2. Heat oil or fat over medium, add vegetables, stir.
3. Sauté vegetables until the onions are clear.
4. Add 4 litres of chicken stock.
5. Bring to a boil.
6. Add barley and simmer until barley is done, about 45 minutes.
7. Add the diced chicken and bring to the boil again.
8. Taste the soup. Add some concentrated chicken stock if the flavour needs a boost.
9. Adjust flavour with pepper and salt to your liking.
The beauty of this recipe is you can pretty much substitute any bones for chicken bones. Or you can roast meat bones from beef, pork, lamb or any other red meat. You can use fish bones, fins and heads, or lobster shells to make a fish stock. Or, if you want just vegetable soup, add more veggies to the stock. If you want to get fancy with some additional vegetables that please you, go ahead. Like my chef instructor said, put good stuff in and good stuff will come out.