Secret to granny's burgers and meatballs revealed
The Chef discloses multiple secrets for perfect meatballs, patties, skewers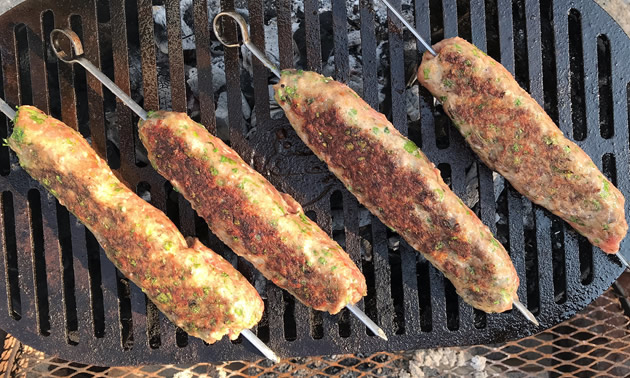 When I was a kid, grandma's house was at the other end of the block from my family's home––close enough to go to grandma's for lunch from time to time. When I was in elementary school, we walked home for hot lunches back then and sometimes my grandmother would make goose egg-sized meatballs for lunch. We came to call them granny burgers. The seasoning was simply salt, pepper, fresh parsley and celery leaves––just the leaves.
I missed the opportunity to record grandma's recipe while she was alive but recently found a recipe that captures the flavour of what I remember as a kid. I make these meatballs from an equal blend of ground beef and ground pork, cook them in advance and freeze them to use on short notice for Swedish meatballs, spaghetti and meat sauce, or meatball subs.
The same mix can be rolled and squeezed around a stick to make a skinless sausage-like tube for the barbecue or campfire, formed into patties for the grill or baked in a bread pan for mid-week meatloaf.
We remember Grandmother with suppers of goose egg-sized meatballs with fried potatoes and gravy all cooked in a cast-iron pan on the stovetop, just like she used to do.
There are a few secrets to making this meat mixture delicious and moist (these are really more like tips than secrets).
My meatballs are a 50-50 blend of ground beef and ground pork. My butcher grinds both fresh daily. If you want fresh-fresh, the folks behind the counter will grind it for you while you watch. Fresh ground is best.
Master the perfect ratio for salt, which means measuring the salt accurately. There is no better way to do this than with a kitchen scale. I found that one per cent salt by total weight is perfect for our family's taste buds. It turns out the equivalent amount of black pepper by volume (eyeballed) is also a perfect ratio, just enough flavour but not so much heat that the little ones back away from the table.
Use finely chopped parsley and celery leaves––leaves only. Buy Asian celery from the Asian market if you can. This delicious celery has pungent leaves.
Mix the meat and ingredients to make a consistent texture, then beat on medium high until the meat starts to "smear." This texture will hold the meat mixture together when formed into balls, patties, tubes for skewers, or loaves.
Don't overcook the meat. Take these meatballs out of the oven when their internal temperature is between 165 and 170 F (74 and 77 C). We have been overcooking meatballs forever. Don't do it. These meatballs will be moist and delicious. See Canada's cooking temperature guide for ground meats––160 F minimum.
Equipment
Kitchen scale
Cup measures
Instant-read thermometer
Stand mixer with a paddle (you can do this by hand but a mixer is more efficient)
A 2-ounce food scoop to make all your meatballs exactly the same size (or you can weigh them)
Baking sheet
Parchment paper
Bamboo or stainless steel skewers
Barbecue, open fire grill or oven
Ingredients
1 pound (450 g) freshly ground beef
1 pound (450 g) freshly ground pork
salt 1 per cent by weight, which is about 9 grams or 10 ml of salt (2 teaspoons)
2 teaspoons (4 g) black pepper, adjust up or down to your taste
1 cup (240 ml) finely chopped green celery leaves
½ cup (120 ml) finely chopped parsley
1 cup (150 g) fine breadcrumbs
1 cup (250 ml) 1% milk
1 large egg
Method
Preheat oven to 375 F (190 C).
Weighing ingredients is preferred but cup measures will get you close.
Combine everything except breadcrumbs and milk.
Mix the bread crumbs and milk and let sit for two minutes, then strain and squeeze off as much milk as possible. (Keep the milk to make gravy or dispose of it.)
Add the moist crumbs to the meatball mix.
In a mixer, mix the meat mixture on low with the paddle to combine all the ingredients. Then mix on medium-high until the meat starts to smear on the bowl sides (less than two minutes). This will help the meatballs or patties hold together when formed.
If making meatballs, portion the meat in two-ounce (60-gram) balls. Roll meat between your hands to form a firm sphere and place equally spaced on parchment-covered baking sheet.
Bake until internal temperature is reached (165 F or 74 C) in about 20 to 25 minutes.
Eat hot what you want, and chill the rest, then freeze for later use. (I initially freeze cooked meatballs on a fresh piece of parchment paper, keeping the meatballs separate. Once frozen, I seal them in a resealable bag for later use. Alternatively, pre-portion and freeze the raw meat to cook over the fire when camping. I wrap this mix, designed for skewers, in plastic wrap and freeze in advance of the camping season.)
I continue to be surprised by how many memories flow back from decades past when eating food that reminds me of my grandmother, and I look forward to making these on my next camping trip.