Just skewer it!
Skewers line meat up for perfect grilling over charcoal, with marinades adding flavour and tenderness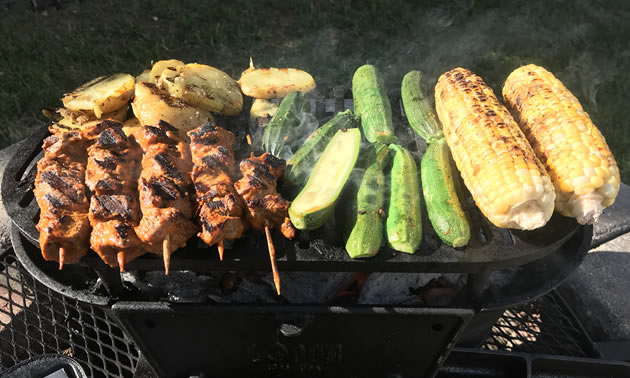 Simple bamboo skewers transform steak into finger food, and marinades make meat more tender and flavourful. While there are plenty of packaged marinades in the aisles of your favourite grocery store, you can easily make your own. Below is a marinade recipe to get you started and experimenting.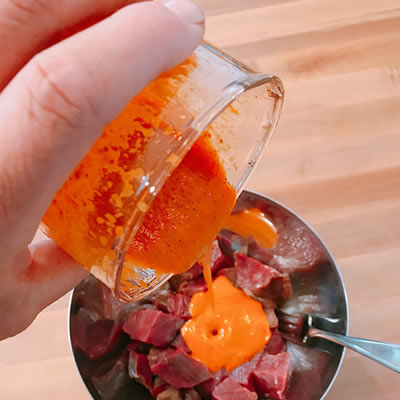 Most marinades are largely an acidic ingredient—like vinegar or lemon juice—and oil. Red wine vinegar, malt vinegar, lemon juice or lime juice are all good marinade bases. Olive or canola oil works well in marinades. Choose spices that enhance the meat you are skewering. Chipotle, garlic, black pepper and red wine vinegar work well for red meats, whereas white wine vinegar, white pepper and herbs like thyme, basil and garlic work well for white meat.
Nothing sears meat as quickly and cooks vegetables as fast as the extreme dry heat of charcoal. My Lodge hibachi-style Sportsman's Grill is my favourite to use camping when I want that fast dry heat. A glowing bed of charcoal makes it easy to get a rich mahogany exterior on your steak and medium rare inside.
Here is an easy-to-whip-up marinade for your steak skewers. Sirloin is it a good choice for this recipe. Marinades do tenderize meat some but mostly impact the surface. Marinades are more about the flavour than tenderness. (Unless a commercial marinade with a tenderizer is used.) Marinades won't turn round steak into your into New York Strip but will certainly make a sirloin even tastier.
For this recipe I used pre-cooked potatoes, freshly picked garden zucchini and cob corn. I drizzled the vegetables and potato slices with olive oil and gave them a fresh grind of salt and pepper. I used Old Bay Seasoning on the corn for a change.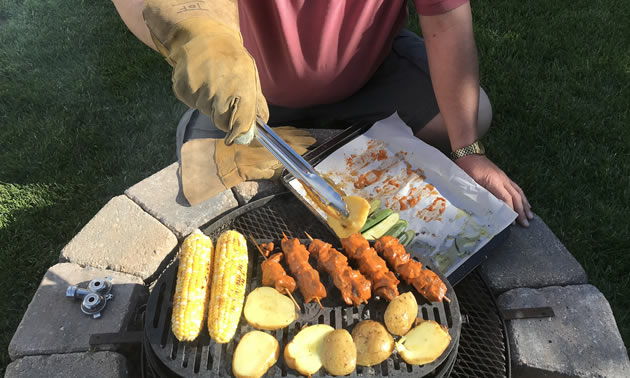 Recipe for Chipotle Marinade for Meat
Equipment
Blender
Charcoal grill
Charcoal
Barbecue tongs
Stainless or glass bowl for marinating meat
Bamboo or steel skewers
Ingredients
454 grams (1 pound) beef sirloin steak or roast, cubed
2 chipotle peppers, Old El Paso brand, canned from the Mexican food aisle at your grocery store (more or less to satisfy your desire for heat)
20 ml (1 ½ tablespoons) olive oil
30 ml (2 tablespoons) red wine vinegar
2 garlic cloves, peeled
3 ml (½ teaspoon) smoked salt
3 ml (½ teaspoon) black pepper
Bamboo or stainless steel skewers
Method
1. Puree all of these ingredients into a creamy marinade.
2. Place cubed steak in a stainless or ceramic bowl and stir in marinade to cover well.
3. Refrigerate for 6 hours or overnight.
4. Thread meat on skewers.
5. Grill on high to medium rare doneness.
6. Serve with a selection of grilled veggies.
There is nothing like the fast powerful heat of glowing charcoal and the slow heat of chipotle pepper- and garlic-flavoured skewers of sirloin. Add a cob of charcoal-roasted corn and you eliminate the need for cutlery––perfect finger food.