Pro Barbecue team SmellaQue compete from 1969 Airstream
What started as a love affair with Texas Barbecue led this family into the world of professional BBQ competitions.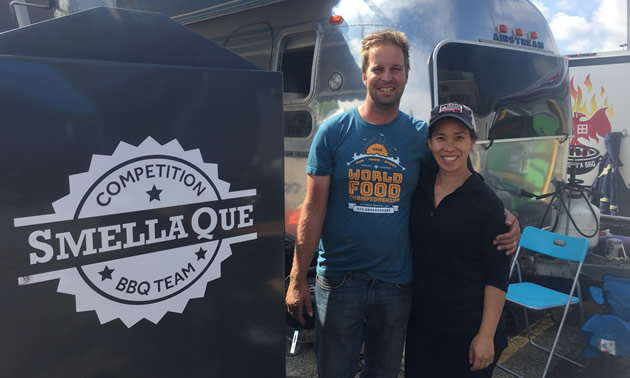 Food, travel and hobby came together for Russell and Janice Smella like a chicken and ribs and cornbread combo. Prolonged exposure to Texas Barbecue on a self-directed culinary tour got them hooked. They turned pro, launched their SmellaQue barbecue team, and after the first year of competition, decided they needed a trailer.
"I loved the food so much I had to figure out how to do it," Russell said, following that Texas trip.
Scouring Kijiji for a 1969 Airstream solved the need for a trailer. The Airstream is now the base from which the SmellaQue Team competes in Kansas City Barbeque Society-sanctioned events from Newport Beach Winter Q in California to the Barn Burner BBQ in Chilliwack, British Columbia, and from the Triple B Festival double-header in Kenora, Ontario, to Porkapalooza in Edmonton, Alberta.
"Camping with purpose: all of the friendships of camping expanded with competition," is how Smella described his family's engagement in pro barbecue.
The Smellas purchased a 950-pound (432-kilogram) Pitmaster vertical vault charcoal-fueled smoker, manufactured in Houston, Texas. The smoker goes in the back of the truck so a single-axle, 20-foot Airstream is perfect for their needs. Russell and Janice renovated the trailer to accommodate the kids twin beds in the back of the trailer. They sleep comfortably while Mom and Dad pull all-nighters. The Smellas work from the front of the Airstream, making sure the smouldering charcoal is just right, ensuring that the beef briskets and pork butts smoke low and slow and are competition-ready in the morning.
"With one barbecue a month during the competition season this needed to be a family adventure," said Russell.
And family adventure it is—even the Smella children enter the KidsQue competition events. Their Porkapalooza entry was a Hawaiian-influenced handmade burger that featured garnishes of Spam, pineapple and cheese.
The Smellas recently returned from Kenora, Ontario, where they participated in a double header. That's where competitors barbecue all night Friday for a Saturday turn-in for judging and all Saturday night for the Sunday turn-in. This summer's schedule includes BBQ on the Elbow in conjunction with the Calgary Stampede, Those Were the Days BBQ Showdown in North Battleford, Saskatchewan, then back to Calgary for a BBQ on the Bow for Labour Day, and the end of the season.
The Jack Daniels invitation-only event remains on Janice and Russell's bucket list. Only three teams from Canada are invited to attend each year. The way SmellaQue is charging up the International Team of the Year standings with the Kansas City Barbeque Society, maybe they will be hauling their Airstream to Lynchburg, Tennessee soon.