Fish fry with friends
Freshly-caught fried fish feast with friends is fantastic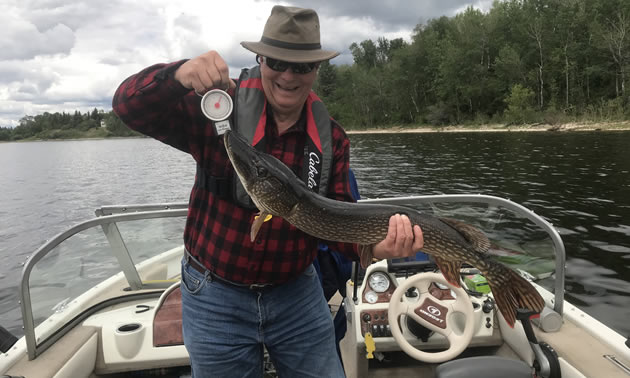 In a world of fussy food, simple is a nice change. Simply fried fresh fish tops the list of delicious. Make this meal with old friends around the campfire after a day of successful fishing and season it with stories to have some of the best memories a person can log.
My brother fishes the end of May and first week of June with a collection of his closest friends—has for long as I can remember. And every couple of years I get to join him. This year we camped at Sir Winston Churchill Provincial Park Campground near Lac la Biche, two and a half hours north of Edmonton. We fished monster pike from the deep. In the early days we slept in canvas tents and some of the boys slept in their cars. Now nearly everybody has a fifth-wheel trailer or motorhome so they can pull a fishing boat.
The 2018 limit of northern pike is one fish over 80 centimetres (31 inches). That's longer than some people's legs. The northern pike we caught was a full metre or 39 inches. It weighed five kilograms (11 pounds) and simply fried it was simply delicious. Normally we would fry fish in a cast-iron pan and cook foil packets of potatoes and onions on the fire, but extreme fire risk forced a fire ban over most of northern Alberta during the fishing trip.
At my age, fishing is one of the few things that makes me giggle out loud. A big fish hitting my lure telegraphs some excitement deep inside of me when it hooks up. It's something from my childhood, but something more . . . something primal and elemental. To sit around the fire with friends old and new and talk about these adventures and adventures past while sharing fresh fish I caught is a rich reward.
Go ahead, reward yourself, fry some fish and share it with friends. Here are my two favourite ways to cook fresh fish: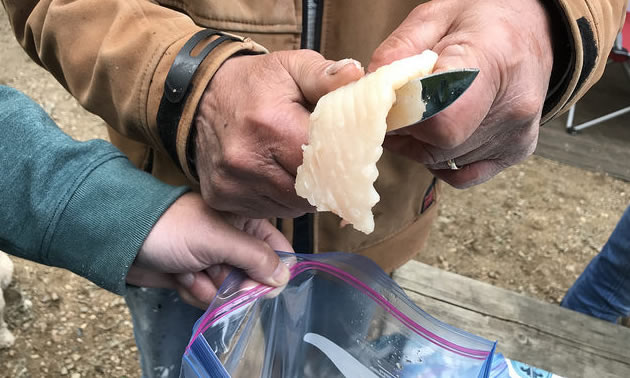 Tools and equipment
Oil for frying
Fryer and basket
Cook stove (optional if there is no fire ban)
Tongs
Ovenproof container to receive cooked fish for serving
Aluminum foil
Paper towel
Cast-iron fry pan
Thermometer to measure cooking oil temperature
Knife and cutting board
Plastic zipper bag, large
Foil Potato Packets
Prepare one for each person:
1 medium potato, sliced thinly
1 peeled carrot, sliced thickly
½ medium onion, sliced
A handful of sliced mushrooms
15 ml (1 tablespoon) butter
Salt and black pepper
Method
1. Slice all of the veggies onto a foil sheet.
2. Add a pat of butter.
3. Give a good crank of salt and pepper, fold foil to seal and set over the fire (or if there is a fire ban, your barbeque box).
4. Cook until the potatoes are tender.
Deep-Fried Fish
250 grams (½ pound) fresh boneless fish fillets, cut in chunks (amount is per person)
Fish Crisp brand fish batter, available at Canadian Tire (choose from regular, honey garlic or Cajun)
2 litres (½ gallon) canola oil
Tartar sauce (optional)
Method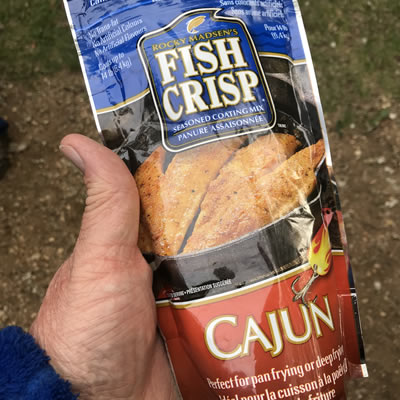 1. Catch a five-kilogram, 100-centimetre northern pike (or whatever constitutes a legal size where you are).
2. Have your brother, who knows how to remove the row of Y-bones just above the fish's lateral line, show you how to fillet the fish. (By the time I did four fillets, I can do this competently now.) As a bit of background, pike are boney. Some people refuse to eat them because of this. There is a method of removing the offending bones, which I find completely satisfactory, and early season pike are every bit delicious.
3. Heat the oil in the deep fryer to 175 C (350 F). Deep frying is dangerous. Use extreme caution. (We used a small deep fryer that held no more than two litres of oil. The fire ban prohibited turkey fryer use.)
4. Empty the contents of a bag of Fish Crisp brand batter into the plastic bag, add 500 grams of fish and shake to coat fish well. (We completely ignored the directions about milk and egg, but certainly the directions on the batter box would be fine.)
5. Deep fry until golden.
6. Serve immediately with potato packets and pass the tartar sauce.
Breakfast fish
When I was a kid, we ate the fish we caught for breakfast. I thought everyone did this when they fished. I still do. Here is my breakfast fish recipe. It is so ridiculously simple it barely deserves a recipe. Serves four.
Ingredients:
1 kilogram (2.2 pounds) fresh-caught fish (we used pike)
2 potatoes, diced
1 onion, diced
125 ml (¼ cup) butter
500 ml (2 cups) flour
1 large plastic zipper bag
2 large ripe red tomatoes
Salt and pepper
Method
1. Heat a cast-iron fry pan on the fire (or on a cook stove).
2. Add half of the butter to melt.
3. Add diced potatoes and onions.
4. Stir and cover. Check every five or so minutes to make sure the potatoes are browning nicely.
5. When the potatoes are done, remove to a plate and tent with foil.
6. Season fish with salt and pepper.
7. Add flour to plastic bag.
8. Add fish to bag and shake well.
9. Add remaining butter to the fry pan.
10. Shake excess flour from fish, place in pan and fry until golden brown.
11. Serve with a side of potatoes and a thick slice of tomato.