Grandma Ellen's Buttermilk Biscuits
With a little preparation at home, these biscuits can easily be made while RVing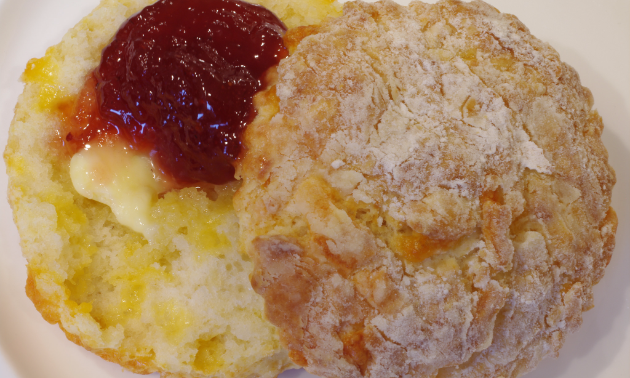 Two steps past the screen door slam, I was in Ellen's farmhouse kitchen smelling buttermilk biscuits and hugging my new mother-in- law. We ate them fresh out of the oven with salted butter, cheese whiz and strawberry jam, which she made from berries hand-picked from her own patch.
These are simple to mix up for camping. Just put all the dry ingredients in a zip-top plastic bag with the recipe card, and make sure you have oil and buttermilk in your cooler.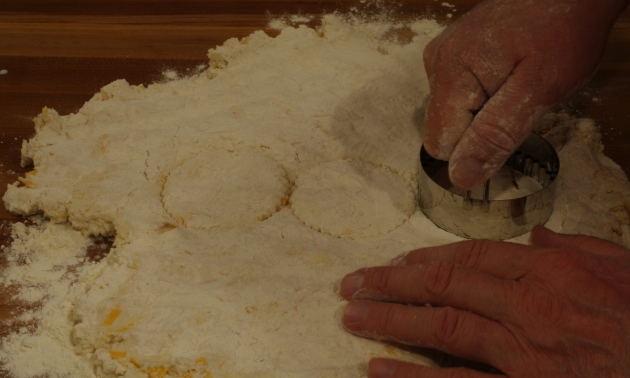 Ingredients
2 cups all-purpose flour
2 cups cake flour
3 tablespoons baking powder
1 teaspoon baking soda
1 teaspoon salt
½ cup butter
2 cups (500 ml) buttermilk
1 cup shredded old cheddar cheese
Coconut oil, butter or lard for greasing the bottom of the Dutch oven
Method
Preheat the oven to 230 C (450 F) or get your coals lit and ready for your cast iron Dutch oven. My Dutch oven is 12 inches in diameter so I use 33 coals in total: 22 on top and 11 on the bottom. (See your own Dutch oven owner's manual for specific advice.)
Measure and mix dry ingredients.
Cut chilled butter into niblet-sized chunks and rub into the flour with your hands until the mix is the texture of dry oatmeal.
Add shredded cheese and toss to mix.
Measure and add buttermilk.
Stir with a few aggressive strokes to bring the soft dough together.
Turn the whole sticky mess on a floured board; sprinkle the top with flour.
Press the dough evenly with your palms until almost two-centimetres (3/4-inch) thick (instead of rolling).
Cut rounds with a biscuit cutter, the rim of a glass or a tin can with both ends cut out.
Place rounds on a baking sheet if you're using a regular oven, or grease the bottom inside of your Dutch oven and preheat top and bottom with briquettes for five minutes before adding the biscuits.
Cook 12 to 15 minutes until caramel coloured on top and bottom.
I miss Grandma Ellen but eating these biscuits brings me back to happy conversations at her farm kitchen table. She would be pleased for you to have her recipe and enjoy a well-buttered biscuit and conversation at your table.