Cabbage roll day
Here are our family secrets to great cabbage rolls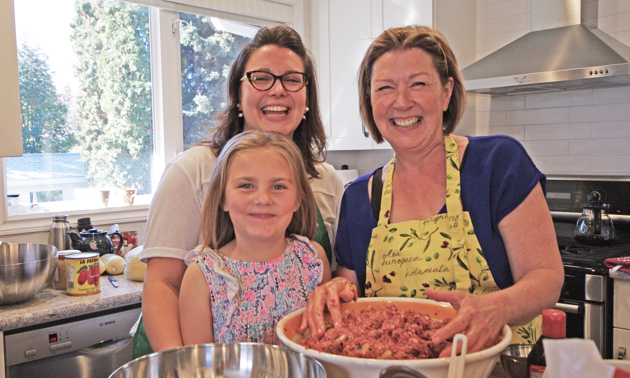 In late fall and winter, cabbage rolls regularly bubble away in our oven on weeknights, comfort food for the family that was put up in the freezer weeks ago. Just thaw, heat through, and enjoy the fruits of your long past labour. Here are our family secrets to great cabbage rolls. You might want to book a cabbage roll session of your own in the next few weeks.
There's nothing like a good argument, like the meat and rice, versus rice-only argument that rages between cabbage-roll-making grandmothers. I've never seen a fight breakout, at least not one that left bruises.
Grandma Kate, who makes the cabbage roll rules in our kitchen says "meat and rice." That statement pretty much ends the argument.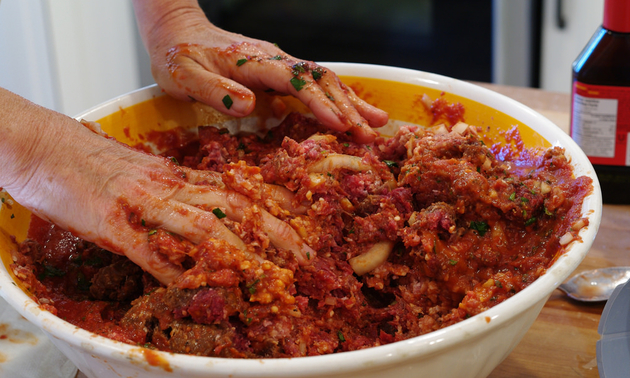 She prefers a three-way blend of beef, pork and venison. But beef and pork will do. Just recently she agreed to try Korean rice, the medium grain sticky rice. The whole family nods in agreement, the results were satisfactory. I should tell you that grandma Kate comes from a Polish-German-Scottish tradition of cabbage roll-making. Last week her daughter-in-law and granddaughter got together and made cabbage rolls for our family to enjoy throughout the winter. You too can book a cabbage roll kitchen day and make easy meals for the freezer. Kate uses sour cabbage to make the rolls. Sour cabbage eliminates the need to blanch fresh cabbage so the leaves are flexible, and the resulting flavour is delightfully complex.
Here is what she did:
Tools and equipment
Cutting board
French knife
Roasting pans
A really big mixing bowl
Measuring cups
Electronic kitchen scale that measures up to 1 kilogram in gram increments
Roasting thermometer
List of ingredients
2 heads of sour cabbage
1.36 kg (3 lbs) of ground pork
1.36 kg (3 lbs) of ground beef (substitute venison if you have it for ⅓ of the pork and beef.)
2 c onion finely diced
1 c celery leaves finely diced (we used asian celery)
2 - 500g jars of sauerkraut
1 - 796 g tins crushed tomatoes
1 - 796 g tins tomato sauce
2 - 796 g tins whole canned tomatoes
1.36 L can tomato juice
1- 284 ml cans of tomato soup
2 litres of beef stock
5 grams (1 tsp) salt
10 grams (about 3 heaping tablespoons) of coarse black pepper
3 1/2 c Korean medium grain white rice (750 grams)
Method and results
Mix all of the meat, onions, celery, salt and pepper, rice, tomato soup and tomato paste in a big mixing bowl and combine well.
Rinse and remove the core of the sour cabbage.
Remove single leaves and stack for filling.
Line the roasting pan with the inner cabbage leaves that cannot be manipulated to make cabbage rolls. Chop these coarsely if they leaves cannot be made to lie flat on the bottom of the roaster.
Add 100 g (4 ounce) scoop of meat and rice mixture into the centre of a cabbage leaf and roll tightly.
Pack these rolls snugly into a large roasting pan that is deep enough for two layers of rolls.
Cover each layer of cabbage rolls with a mixture of tomato sauce, crushed and whole tomatoes and beef stock.
Sprinkle sauerkraut over the tomato sauce, and add another layer of rolls.
Finish the top layer following the same process.
Repeat until all of the cabbage rolls have a home and are nestled in sauce and stock.
Roast at 350F until the internal temperature is 180F.
Remove, cool, package and freeze for reheating.
This made 36 large (dinner sized) cabbage rolls averaging between 100 and 150 grams each. We usually double this recipe and make a serious batch of cabbage rolls. Go ahead and start an argument of your own, but finish it with a good helping of meat and rice cabbage rolls. You will find these cabbage rolls taste pretty good right out of the oven the day they are made, but for some reason they taste even better after being cooled, frozen stored and reheated. Cabbage rolls are easy dinners to heat over a slow fire in the dead of winter, even if you are not camping.