Vintage RV: Travco Motorhome (1980's?) — "The King of the Industry"
The Dodge/Travco was a pricey machine, and was not affordable to typical middle-class Americans.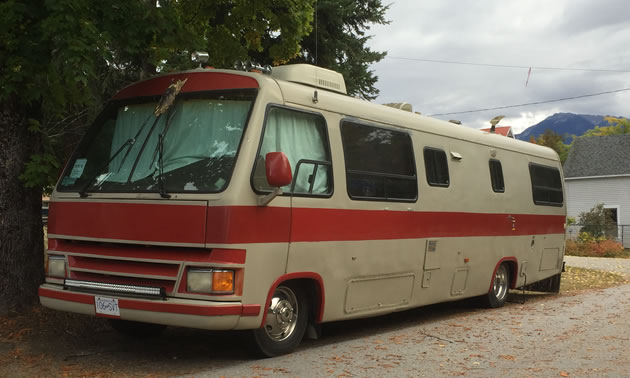 On the quiet streets of the tiny village of New Denver, British Columbia, sits some fine vintage RV units. For example, in a brief afternoon visit I saw a Phoenix by Cobra at the campground, a colourful Boler on a side street and then this unique looking motorhome sitting in front of a residential property.
I am only guessing because I couldn't see any nameplates or manufacturer identification on this model, but I think it's a vintage Travco motorhome. Still in great shape and obviously licensed and being used.
As one enthusiast website writes, "The Dodge/Travco sat on what was essentially a Dodge medium truck chassis, and used the "polysphere" 318 CID (5.2 L) V8 backed by the rugged TorqueFlite. The 318 made some 200 hp, and was built with heavy duty components, given the very hard life it led pushing the big, tall and heavy motor home to all the usual scenic locations around the country. Later versions had the legendary Chrysler RB 413 V8, which is remembered more fondly. It made quite a difference, with its big increase in power. The 440, the final development of that tough engine, powered Travcos in the seventies and eighties. The Dodge/Travco was a pricey machine, and was not affordable to typical middle-class Americans. The Winnebago, which revolutionized mass-production methods for RVs and dramatically lowered their price, was still a few years off."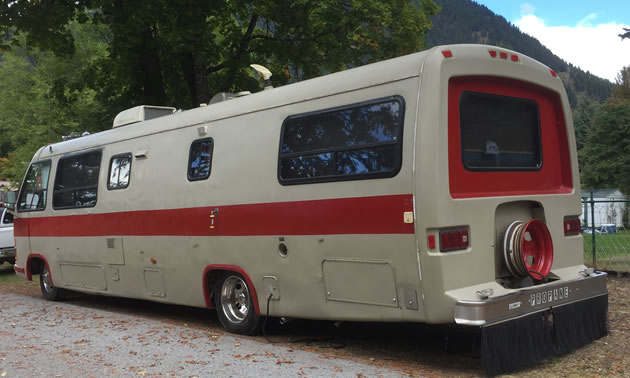 It adds, "By the eighties, the Travco was history, but not before it had made history. And its timelessly-handsome profile and swept lines are still appreciated by its devoted fans, as well as just being another handsome addition to the street wherever it sits, unless perhaps it's the wrong kind of folks camping in front of your house."
In the early 1960s an RV industry pioneer, Ray Frank, connected with Chrysler to market his motorhomes under the brand name of Dodge. The Dodge Travco was king of the industry for two decades creating 21-27 foot homes on wheels.
Now, I am only guessing, but I am pretty sure this is a Travco motorhome as well. Great looking motorhome and definitely appears that it has more than a little life left in it—happy camping in New Denver.
Share your classic RV restorations, or tell us your favourite story about a cool vintage unit you've encountered by filling out our Classic Vintage RV form.