Vintage RV: 1973 Boler on the beach
A big "Bolerama" event to celebrate the 50th anniversary of the iconic Boler trailer is scheduled for August 15-19, 2018 in Winnipeg.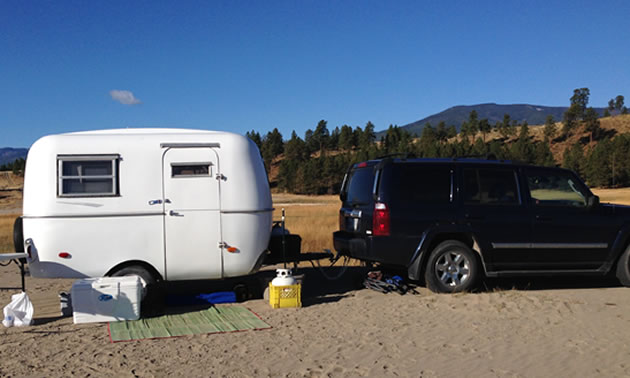 We didn't have to stray too far from home for this week's Vintage RV subject. Phil Budiselich is a staffer here at RVwest and along with his wife Debbie, they are recent, and may we say, proud owners of a 1973 Boler trailer.
Phil was kind enough to submit a few photos of their Boler on the beach, as they recently did a little fall camping to wrap up the season.
We asked Phil why he loves his classic little trailer: "It's small, light, simple and fun!" he says. And he adds that it, "Probably is a better investment than gold."
Why is that? Because Bolers are becoming a "hot" commodity amongst collector and young couples/families who want to experience RVing in a simple, more "back-to-their-roots" kind of way.
So it's no accident that you might be noticing more and more Bolers on the road and in campgrounds across Western Canada. It is estimated that some 10,000 or so Bolers were manufactured and they have enjoyed a "cult-like" following and resurgence in recent years.
Around 1974 (or perhaps as late as 1977—accounts vary), Boler was purchased by Neonex. Neonex, owned by business magnet Jimmy Pattison, had considerable experience in RVs, producing the Travelaire, Holidaire, Rustler and Otto brand RVs. Neonex Leisure shifted production to Calgary (from Winnipeg and Grand Prairie) and in 1979 Boler introduced a 17' version which was not as successful as the original 13' edition.
Though Neonex is defunct, evidently BC billionaire Jimmy Pattison still holds the Boler trademark and the registration of the trademark is active – though there is no indication that Mr. Pattison is wanting to jump back into the Boler trailer manufacturing business.
The Boler was produced from 1968 to 1988, and 2018 is the 50th Anniversary of the little egg-shell trailers. A big "Bolerama" event to celebrate this anniversary is scheduled for August 15-19, 2018 in Winnipeg. At this point 584 trailers have been registered and all the Boler action takes place at the Red River Exhibition Park.
Here's how the event's website (www.myboler.com) describes the big little rally: "2018 marks the 50th anniversary of the Boler. To celebrate this iconic piece of Canadian history we plan to organize a homecoming caravan and gathering of moulded fibreglass trailers, including the Boler, from across Canada and the USA to meet in Winnipeg, Manitoba where the original Boler was first introduced. The popularity of moulded fibreglass trailers, especially the vintage Boler is growing—many regions host annual gatherings that will see between 50 to 150+ moulded fibreglass trailers attending an event. Owners of moulded fibreglass trailers appear to be very interested in this 50th anniversary celebration which could see hundreds of participants pulling their tiny trailers into Winnipeg, Manitoba in the summer of 2018. This event would also be a spectacular attraction for local media and residents who would have the opportunity to view these unique trailers up close, many remembering their summertime vacations."
Maybe Phil and Deb will be taking in the Bolerama too—we'll keep you posted.
Got more stories or photos of the iconic Boler or another vintage RV? Share them with us at [email protected].