Vintage RV: Tracking down the Scamper Travel Trailer story
Prebuilt Industries manufactured a number of brand names in addition to Scamper including Skipper, Trans Camp, Skylark, Empress Motorhomes, Sportscraft and Conestaga.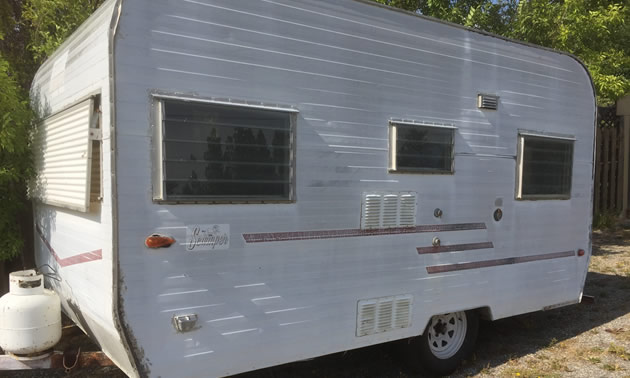 Here's a vintage Scamper trailer (looks like an early 1970's model) I found not long ago parked alongside a busy BC highway. It tweaked more than a few fond memories for me.
I once owned a Scamper trailer, one that would easily qualify for our Vintage RV column. It was a cozy little unit that served us well for several camping seasons though I personally found it a bit cramped when it came to housing a family of three or four.
We eventually sold the little travel unit to a fellow employee whose family got many years of camping enjoyment out of it, too.
So what's the story behind these little Scamper trailers? As we have written before about the Scamper line, it was not unlike the story of many other start-up manufacturers bent on cashing in on the popularity of early travel trailers.
The trailers were manufactured by a Lethbridge, Alberta-based company called Prebuilt Industries. It was managed by Elmer Ferguson and operated by the Merriman family, whose principals were Chester and his son Dale.
As one business associate said, Prebuilt evidently started out manufacturing portable camps and as well as a popular line of travel trailers and motor homes, which were sold across Canada by a network of dealers, many of whom also sold mobile homes - a strange mix but common at the time.
At one point they had over 200 dealers selling the popular little Scamper travel trailers.
Prebuilt Industries at one point or another, manufactured a number of brand names in addition to Scamper including Skipper, Trans Camp, Skylark, Empress Motorhomes, Sportscraft and Conestaga.
A press report at the time stated, "Prebuilt Manufacturing Ltd. operates from a modern 55,000 square foot plant on a 10-acre site, with a staff of about 165 craftsmen. Industrial camps account for about 50 per cent of the company's total volume at the present time. Other products on the market are the Scamper travel trailers and truck campers, now accounting for 40 per cent of Prebuilt's manufacturing volume."
From files of the Lethbridge Herald, dated August 11, 1989 came this article - "Scamper Canada Ltd., is winding down its recreational vehicle manufacturing operation in Lethbridge in preparation for its move to North Battleford, Sask. Donn Armstrong, who moved to North Battleford last year to take over management of the Vanguard recreational vehicle manufacturing plant, will make Scamper trailer, fifth-wheels and motorhomes on the Vanguard line, starting in September. Armstrong said the agreement with Vanguard will allow the manufacturing line to operate more efficiently, and to run through the winter. He said that efficiency is what forced him to leave Lethbridge. 'I had to run the Lethbridge operation at maximum to be run reasonably efficiently,' said Armstrong. 'I had to expand or quit. I am a little disappointed that is how the world is.'"
Read our other Scamper story here.
Share your classic RV restorations, or tell us your favourite story about a cool vintage unit you've encountered by filling out our Classic Vintage RV form.