Best of Vintage RV 2019 - #10: Meet the sons of Kustom Koach Founder, Carl Carstensen
Over the next 10 weeks we will feature the Top 10 Vintage RV articles we have ran on the RVwest website over the last year.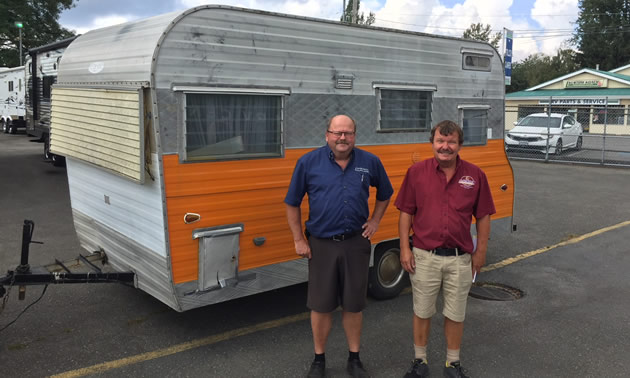 Over the next 10 weeks we will feature the Top 10 Vintage RV articles we have ran on the RVwest website over the last year. We have ranked them according to the number of "likes" each posting received on the RVwest Facebook page.
So enjoy our list of the Top 10 most popular Vintage RV postings from the last 12 months — in our annual feature called 2019 Best of Old Vintage RV.
Starting at Number 10 with 146 likes, we go back and meet the sons of Kustom Koach founder Carl Carstensen:
Recently, we heard from an avid vintage RV enthusiast, Eric Hicks, who lives in Richmond, B.C., about an article we published some time ago called the "The 'Big K' Travel Trailer Mystery". Not only did Eric help solve the mystery, he met the sons of Kustom Koach founder, Carl Carstensen.
Eric confirmed the mystery trailer was in fact a Kustom Coach. He wrote, "It is definitely a Kustom Koach, likely '67-69 model. I have a '65 Kustom Koach, and the graphics are identical. Mine was built in Aldergrove, B.C. in 1965."
Eric adds, "A good friend family bought their brand new 1969 Kustom Koach in Aldergrove, had sent your article to me when I bought my project trailer on August 30, last year. I have been looking for a vintage for a long time, but the prices of Shastas, Alohas, Scotty's etc, were getting crazy, and could not find local or in western Canada."
Eric finally did find a Kustom Koach to refurbish. "I was very lucky, and found my '65 K Koach out in Chilliwack. It needs a full restoration, which is exactly what I wanted. I currently have gotten to the insulation and wiring stage, after fully gutting and replacement of dry-rot wood. (less than 10% of wood was bad)."
Looks like Eric's got a big project on his hands and remember Eric — when it's done we expect some pictures of the finished project!
Here's a great connection to the Kustom Koach story as well from Eric. He says, "One very cool thing is that I had read about the history of Kustom Koach, and found that they still have a dealership on Fraser Highway, in Aldergrove, where it all started in the sixties. The two sons of the company founder (Carl Carstensen) still work there.
In fact, on the day I picked up my trailer at the Vedder Canal, on the way home, I decided to stop off at Kustom Koach in Aldergrove. I was lucky enough to have caught the two sons there, and had them called out to have a look at some family history. Needless to say, they were thrilled to see it and they confirmed that their dad had actually hand built my trailer in '65!"
Here is a link to another story we did on the Kustom Koaches.
Thanks for Eric Hicks of Richmond for sharing this great Vintage RV story and elaborating on the Kustom Koach legacy.
Share your classic RV restorations, or tell us your favourite story about a cool vintage unit you've encountered by filling out our
Classic Vintage RV form
.