Vintage RV—Trailing the Story of the Scamper Travel Trailer
The Scamper line of travel trailers has its origins in Lethbridge, Alberta.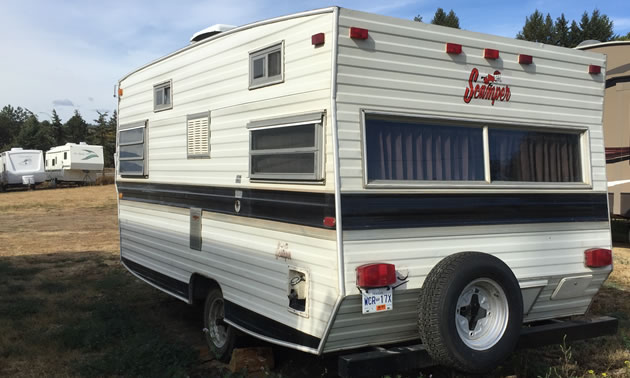 It's quite common to see a Scamper Travel Trailer pop up as a candidate for a Vintage RV feature, but there is little information still around about these once popular trailers. We discovered this great looking 1970's(?) Scamper in a storage yard in the Okanagan.
As one blog poster stated, "Scampers were made in Alberta, Canada by Pre-Built in the 70's. Long since out of business."
Lethbridge home to Scamper
Another unidentified writer for an online magazine called Air Highways, had this to say about his knowledge of the Scamper line, "Lethbridge, Alberta was like a second home to me for at least a decade when I lived in Calgary, owned a thriving advertising agency, and was active with several key industries located that Southern Alberta community.
My first manufacturing client in the city was Prebuilt Industries, managed by Elmer Ferguson and operated by the Merriman family, whose principals were Chester and his son Dale. Prebuilt manufactured portable camps and a popular line of travel trailers and motor homes, which were sold across Canada by a network of dealers, many of whom also sold mobile homes - a strange mix but common at the time. I had the opportunity to meet and work with this army of over 200 dealers and to provide them with marketing tools in both French and English. This led to our winning the industry's public relations account, which opened up new horizons.
The Lethbridge company's well established brand name was "Scamper" and owning my first travel trailer led me into the wonderful world of recreational vehicles, even to enroll my family in a trailer club. The RV travel experience is an area we intend to feature much more on this web site, so we welcome your items and stories."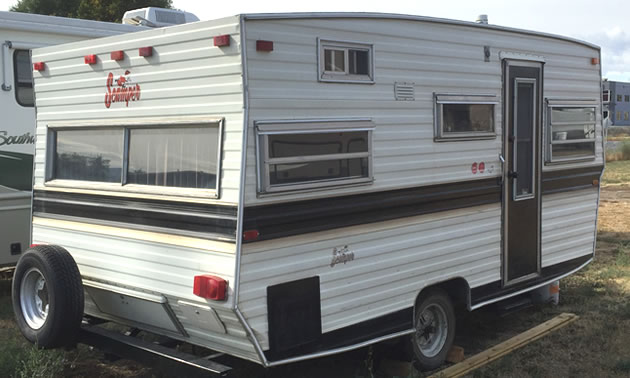 A focus on PreBuilt Industries and the Scamper line
The Lethbridge Historical Society also posted an account on Facebook about the Scamper Trailer and its parent company PreBuilt Industries: "If the names Scamper, Skipper and Trans Camp, Skylark, Empress Motorhomes, Sportscraft and Conestaga mean something to you, then you know that many different companies have built trailers and motor homes in Lethbridge at different times. We focus today on Prebuilt Industries."
(From Lethbridge Herald, December 6, 1968) - "Started in 1944 as the Lethbridge Body Works, building truck boxes for grain and sugar beets, Prebuilt has become one of Canada's largest manufacturers of prefabricated dwellings. The company was founded by C.O. Merriman, who was co-owner, the firm's first president and its sole employee at the time. The first year he did $30,000 worth of business.
Living accommodations for work crews were urgently needed at various construction sites in the early 1950s when western Canada's petroleum, mineral, forest and water resources boom got under way. Capitalizing on this, Prebuilt went into the production of portable industrial camps. E.B. Ferguson, vice-president said that dollar volume for last year was in the neighborhood of eight figures.
Today, Prebuilt manufacturing Ltd. operates from a modern 55,000 square foot plant on a 10-acre site, with a staff of about 165 craftsmen. Industrial camps account for about 50 per cent of the company's total volume at the present time.Other products on the market are the Scamper travel trailers and truck campers, now accounting for 40 per cent of Prebuilt's manufacturing volume.
Prebuilt has achieved its present status operating exclusively in western Canada. The company policy was laid down by its founder Mr. Merriman. Growth for growth's sake only does not necessarily make for a healthy company, he said. The company's first obligation is to the people who have made success possible, the industrial camp clients and Scamper dealers in western Canada, said Mr. Merriman."
It appears that Prebuilt changed its name in 1961 (not yet confirmed). In 1968 the company moved into a new building.
(From Lethbridge Herald, August 13, 1968) - "Recreation Vehicle Firm Plans New Building in City -- A 15,000 square foot building will be erected on a five-acre site at 7th St. and 4th Ave. N. to accommodate the operations of Lethbridge's newest industrial enterprise, PrebCo Recreation Vehicles Ltd. Among the firm's officers and directors are: A.L. Allen, president; C.O. Merriment, executive vice-president, E.B. Ferguson, vice-president and G.D. O'Brien secretary-treasurer."
Changes would continue for the company. In 1972 Prebuilt became a division of Glendale Corporation of Ontario. In 1974 Chester Merriman retired as president and general manager of the company, being replaced by Dale O'Brien.
Scamper was highlighted during the 1988 Winter Olympics in Calgary:
(From Lethbridge Herald, February 4, 1988) - "Scamper Canada Ltd. is Lethbridge's major Olympic connection. It's a rolling one, linked to the cross-Canada Torch Relay and to the winter Olympic mascots Heidi and Howdy. The Scamper presence will be seen across Canada, from the moment the Torch Relay caravan starts rolling westward next Tuesday from St. John's, Nfld. The five 22-foot mini-motor homes in the caravan will Scamper units made in Lethbridge. They'll be transporting and meeting other needs of runners, medical and sports therapy teams, relay officials, the Olympic mascot, and a photo-journalism crew."
Approximately a year later it was reported that Scamper would be leaving Lethbridge.
(From Lethbridge Herald, August 11, 1989) - "Scamper Canada Ltd., is winding down its recreational vehicle manufacturing operation in Lethbridge in preparation for its move to North Battleford, Sask. Donn Armstrong, who moved to North Battleford last year to take over management of the Vanguard recreational vehicle manufacturing plant, will make Scamper trailer, fifth-wheels and motorhomes on the Vanguard line, starting in September. Armstrong said the agreement with Vanguard will allow the manufacturing line to operate more efficiently, and to run through the winter. He said that efficiency is what forced him to leave Lethbridge. 'I had to run the Lethbridge operation at maximum to be run reasonably efficiently,' said Armstrong. 'I had to expand or quit. I am a little disappointed that is how the world is.'"
We would love to know more about PreBuilt and also the other trailer companies in Lethbridge so if you have stories and photographs to share, we'd love to see them. Not a great deal has yet been written about all of these companies."
Do you have more information to add to the Scamper Travel Trailer story? Share your classic RV restorations, or tell us your favourite story about a cool vintage unit you've encountered by filling out our Classic Vintage RV form.