Vintage RV: The Outback by Trillium Trailer Manufacturing
First introduced in the 1970's, these small trailers that could be towed by a small or compact car proved extremely popular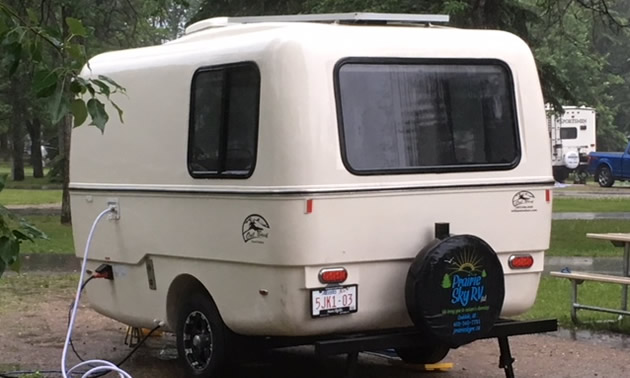 It looks vintage, feels vintage, but it's brand new? How does that work? We were recently staying in a campground in central Saskatchewan and in one of the neighbouring campsites sat a vintage looking Boler-style trailer.
However, on closer examination it was clear this was a relatively new trailer sporting a vintage trailer look. In fact, it was an Outback built by Alberta-based Trillium Trailer Manufacturing based in Rocky View County just east of Calgary.
Here's what the company's website says about the little fiberglass units:
The Outback — a vintage fibreglass trailer
"The Trillium trailer, named after Ontario's provincial flower, has an illustrious history, and has long been a popular economical alternative to full-size recreational vehicles. The trailers were first introduced in the early 1970s and were built by Trillium Recreational Vehicles Ltd. in Markham, Ontario. Many RVers were overjoyed to find a waterproof trailer that could be towed by a small or compact car and legions of fans purchased the trailers in droves. Team Trillium now produces their own model of the Trillium Trailer, a vintage reproduction called the Outback."
When Trillium Recreational Vehicles stopped manufacturing the trailers, a company in Alberta called Ramblin Industries left off when they stopped manufacturing the trailers. Trillium trailer's version of the old favourite is called the Outback and its resurgence has been a great opportunity for both (Joe) Thoen's company and the Trillium trailer's many admirers. In fact, Trillium recently signed a building agreement for an addition that will expand the manufacturing capacity of its existing facility for the purpose of producing the Outback."
The vintage Trillium lives again as the Outback — thanks to the efforts of an Alberta entrepreneur. And, yes it sure does look and feel like a vintage trailer, with a number of modern amenities added to it.
Share your classic RV restorations, or tell us your favourite story about a cool vintage unit you've encountered by filling out our Classic Vintage RV form.