Vintage RV: 1967 Tee Pee Trailer
The exact history of the Tee Pee Trailers in Canada are a bit of a mystery, but it sounds like they have a colourful legacy.
Several months ago we posted an article about a vintage trailer made by Watson Industries in Claresholm, Alberta—we called the trailer a Tee Pee.
Here's a link to the original story: http://www.rvwest.com/article/vintage_rv/vintage_rv_1960s_tee_pee_travel_trailer_by_watson_industries_of_claresholm
However, one of our eagle-eyed RVwest readers,Terri Mason, pointed out that it didn't look like a Tee Pee model to her and forwarded us a photo of her 1967 Tee-Pee. (It is possible the model in the first article preceded the Tee Pee brand?) Terri also sent us a photo of a Tee Pee trailer she has permanently parked at the end of her garden as guest house—appropriately called the Antler Inn.
Then Terri sent us some photos of the interior of the Tee Pee trailer she has renovated and restored. Terri Mason knows what she is talking about when it comes to Tee Pee trailers because she is the wrangler for the upcoming Tee Pee Trailer Homecoming, scheduled for August 17-19, 2018 in Claresholm, Alberta. The theme of the 2018 vintage trailer rally is "Making new friends in old trailers."
Terri has done an outstanding job of restoring her Tee Pee both inside and out—and as you can see she has added a nice touch of homey interior decorating to the little unit as well.
Here is what we discovered from some of the original research on the Tee Pee trailers:
"After the Second World War, Norman Lock went to work for the A.H. Lock Company in Lincoln and Watson Industries in Fremont, Nebraska. In 1952, Norm and Patricia Watson, daughter of Ray and Carol Watson were married. They moved to Claresholm, Alberta, Canada in 1962 for Watson Industries. Watson Industries then became Safeway Shelter Systems (Claresholm, Calgary and Montreal). Safeway Shelter Systems was the second largest mobile home industry and industrial camp manufacturer in Canada. Norm was President and CEO for 20 years. After retiring from the mobile home industry, he moved to Penticton, British Columbia, home of the beautiful Okanagan Valley."
Another social media from someone called Claresholm Kid stated, "My father worked for Watson Industries building mobile homes in Nebraska in the 50's. In 1960 we moved to Claresholm, Alberta where he was production manager at the plant on the old air force airport for Watson Industries. They built the Tee Pee trailers and under the Safeway Shelters name they built mobile homes (which became the #1 Mobile home in Canada). I have a picture of us with a Tee Pee from 1964. We moved back to the U.S. in Colorado in 1964 where my father remained in the recreational vehicle industry till 2010."
Whatever the exact history of the Tee Pee Trailers are in Canada, it sounds like they have a colourful legacy which will be celebrated this summer at the homecoming rally at Claresholm, Alberta—the original Canadian manufacturing home of the Tee Pee trailer.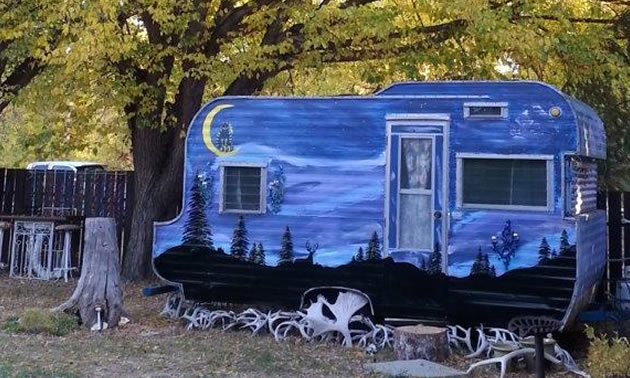 Search Facebook for "Tee Pee Trailer Homecoming" for more details on the rally. Thanks to Terri Mason for sharing her story and photos. Have fun at the Tee Pee rally this summer—sounds like it is pretty much sold out!
Share your classic RV restorations, or tell us your favourite story about a cool vintage unit you've encountered by filling out our Classic Vintage RV form.