Vintage RV: The "Big K" Travel Trailer Mystery
This vintage trailer has me stumped—is it a Kustom Koach Big "K" or Ken-Skill Big "K"?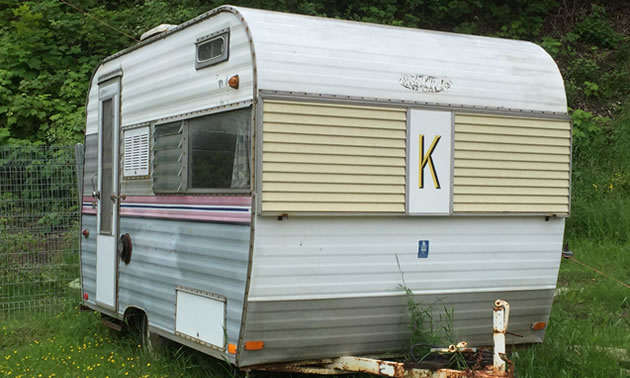 This vintage trailer has me stumped? Is it a Kustom Koach Big "K" or Ken-Skill Big "K"?
Welcome back to our popular vintage RV column—after taking a few weeks break, we're back with a vintage RV mystery of sorts. I snapped this shot in Nelson, B.C. some time ago, thinking it would easy to trace down what the heritage of this vintage trailer was—not the case?
However, I think I'll go with the Kenskill. Evidently Ken-Skill or Kenskill company manufactured travel trailers from 1946 through the mid-1970's.
According to the website, "Tin Can Tourist": "The origin of this company was back in 1946 in Burbank, California with 'KenSkill Kamper'. Bill Kennedy made about 200 'teardrop' trailers by hand during the summers of 1946 and 1947. This 'modern teardrop trailer' design is the footprint for almost every modern 10 ft. teardrop manufactured today! These teardrop trailers were sold from 1946 to 1948 and then the company closed doors. Jim Brunskill was the 'money man' and went on to form a second company - 'Kenskill Trailers'. It is interesting to note that 'KenSkill' is a combination of the names of these two men. It is also interesting that while Jim Brunskill went on to be inducted into the RV Heritage Museum 'Hall of Fame', Bill Kennedy became another forgotten footnote in the vintage history books.
Originally located at 126 W. Alameda, Burbank, CA, Kenskill Corp moved to 11321 Goss Street, Sun Valley, Califorina. Kenskill, formed in 1955, had one of the larger "clubs" after Wally Byam's Airstream clubs. Kenskill Caravans had many members and they traveled to sites throughout the Western U.S. At one time there were over 200 members with 90% being Kenskill owners.
Jim Brunskill was founder and President of the company and Jerry Weiss was Executive VP. Mr. Weiss also owned the River Queen Resort in Bullhead City, AZ. In 1965, Kenskill was sold to Redman Industries. Brunskill & Weiss went on to form Executive Industries which made motorhomes."
Can you help us solve the mystery of this vintage "Big K" trailer? Do you have a vintage trailer or motorhome story and/or photos you would like to share? Share your classic RV restorations, or tell us your favourite story about a cool vintage unit you've encountered by filling out our Classic Vintage RV form.