Vintage RV: Solving the "Big K" Kustom Koach Mystery
Proudly made in Canada for many years, Kustom Koach went out of business in 2010
The "K" mystery has been solved. Several months ago we posted a travel trailer with a big "K" on the front and no other identifying marks. Recently we came across another big "K" unit, which we now understand is a Kustom Koach, proudly made in Canada.
According to a number of posted comments, this company went out of business in 2010. Triple E took over the floor plans, but the Kustom Koach line was never brought back.
Another posting stated, "Kustom Koach and Glendale Canada were bought out by a manufacturer from the USA and then went bankrupt about three months later. Both brands were considered well built."
Another poster added, "They were built by Travelaire in Red Deer, Alberta and were owned by Glendale who made Titanium brand fivers. When Glendale went belly-up, they took Travelaire down with them."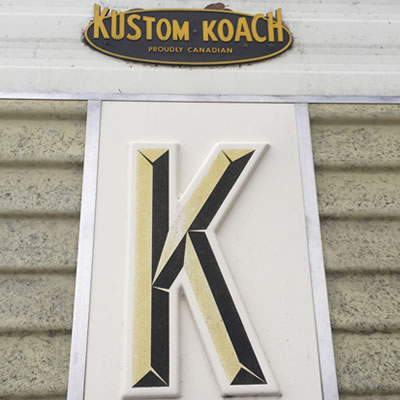 Here's a bit more information on the company: Kustom Koach was founded in the 1960s as a hobby that turned into a business that occupied up to 35,000 square-feet of manufacturing space. Kustom Koach was a Canadian recreational company. Kustom Koach offered Class C motorhomes, travel trailers, fifth wheel trailer and truck campers. Between 1997 and 2003, Kustom Koach towable products ranged from 20 to 33 feet in length while motorhomes span up to 31 feet. The Kustom Koach name of recreational products disappeared after 2003.
Another commenter had this to say, "Kustom Koach started in B.C., Travelaire in Alberta and Glendale in Ontario. In 1985, Travelaire bought Kustom Koach and in 1988 Glendale bought Travelaire. That's why the patented design is shared."
And believe it or not there is a Boler connection to this story. Boler trailer's original owner Ray Olecko and his partner sold his company to Jim Pattison (Neonex) in 1973, and their involvement mostly came to an end. Neonex had considerable experience, producing the Travelaire, Holidaire, Triple E, Rustler and Otto brand RVs. So for a while Bolers and Kustom Koach made by Travelaire had the same owner, Neonex Industries.
Neonex Leisure shifted production of the Boler to Calgary and in 1979 introduced a 17' version of the Boler that was not as successful as the original 13' model.
Ray Olecko felt that his original Boler design was severely compromised. On June 10, 1977, trademark ownership changed to Boler Manufacturing Western Ltd.; on Oct. 31, 1977, trademark ownership changed to Neonex Canada Ltd.
Bolers were "Built with Pride by Neonex" in Calgary, Alberta by "Neonex Shelter Ltd., Boler Division". Vanguard Trailers built Bolers in Winfield, British Columbia in 1979. Jim Pattison Inc., the owner of Neonex, still holds the Boler trademark and the registration is still "live," registration number TMA170511.[2]
Here's a link to our original big "K" mystery trailer article.
Share your classic RV restorations, or tell us your favourite story about a cool vintage unit you've encountered by filling out our Classic Vintage RV form.