Vintage RV Part 4: Odd But True—1963 Nomad 3-in-1 "Clamshell" Trailer
Thanks to Manitobans Howard and Lori for sharing their vintage RV passion.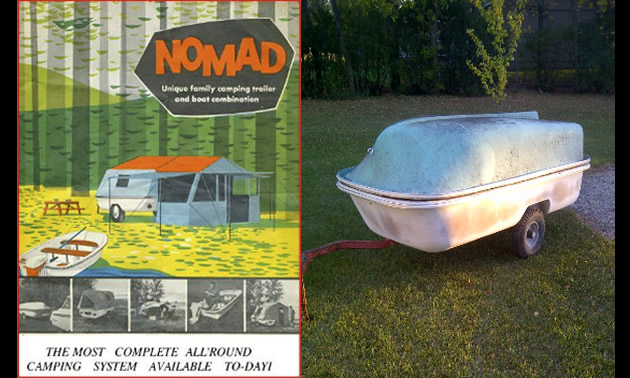 We've kept the oddest vintage RV to the last in our profile of Howard and Lori's RV reno projects. The most unique find in the couple's collection is a 1963 Nomad 3-in-1 "teardrop or clamshell style" trailer
This tiny fiberglass unit was designed by two Lockheed-Martin engineers and produced in Ontario in the early 1960's. The clamshell design of this oversized wheelbarrow is unique in the fact that the top half of the shell flips off converts to a boat. The bottom half is a pop-up camper (that's 2 out of 3), and if the campground is too full or the fishing is better on the other side of the lake, tie the lower half to the boat and pull it into the water—it floats like a barge. Howard has since found a 1963 Buccaneer outboard to complete the setup.
Talking about their RV renovations and rescue projects, Howard says, "To date, three of the eleven trailers have gone through a complete frame up restoration with a fourth in progress. There are still quite a few parts available and even some being reproduced. Be prepared to pay for some of the more hard-to-find parts like door handles which often go for $500.00 US or more."
What do Howard and Lori like about the challenges of renovating vintage RVs? "They are all challenging. With each one we try to make as many amenity upgrades as we can without it being too visible. We want them to still look period correct. The challenge we like the most is utilizing as much space as we can during the rebuild."
Thanks to Manitobans Howard and Lori for sharing their vintage RV passion. We wish them much continued success in rescuing and renovating these classic RV units!
Got a vintage RV story or photos? Share your classic RV restorations, or tell us your favourite story about a cool vintage unit you've encountered by filling out our Classic Vintage RV form.