Vintage RV: Early model (1950's?) Platt Trail-a-Home Travel Trailer
This old travel trailer harkens back to the very early, early days of the industry and sports a most colourful legacy.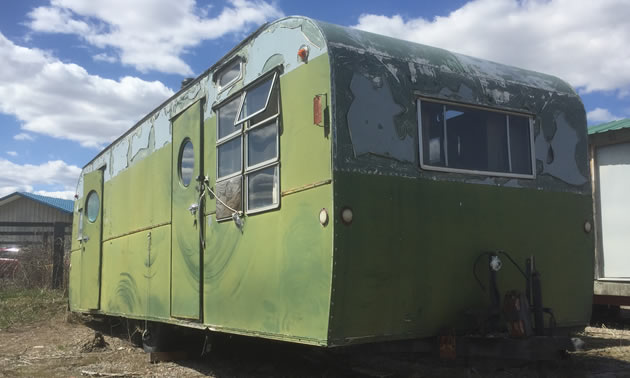 This week I came across another roadside relic and maybe the oldest travel trailer I have encountered to date. Tucked away in a storage lot in NW Montana this aging Trail-a-Home still had a faded name plate attached to its flank which stated it was built in Elkhart, Indiana by the Platt Trailer Co.
With a little research it seems like this old travel trailer harkens back to the very early, early days of the industry and sports a most colourful legacy.
According to the 2017 book by Al Hesselbart, RV Capital of the World: a Fun-filled Indiana History, "In 1935, Oliver Platt – a local railroad manager who also operated a fox farm supplying furs for the garment industry – and his sons Harold and Eldon purchased the foundering Doloretta trailer works and began to make trailers in Elkhart, Indiana. Doloretta had primarily made folding card tables, with some trailers as a side line. When they quickly turned the business around, the Platts renamed their product the Platt Trail-a-Home. Harold became a nationally known activist promoting the fledgling trailer industry from coast to coast."
Hesselbart also wrote that Harold Platt is credited with building the world's first concession trailer that could be towed around to carnivals and fairs – though he failed to patent it.
Platt was very active in promoting the new trailer industry and was instrumental in the formation of the Trailer Coach Manufacturers Association (TCMA), the first national USA organization of builders who got together to promote and guide the early travel trailer industry. He also was instrumental in helping develop the first large regional trailer show and sale.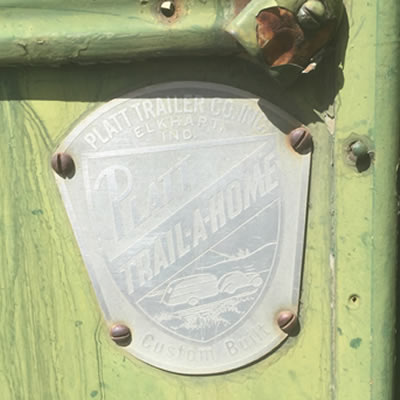 Platt's 1937 deluxe model of the Trail-A-Home was recognized as the first trailer to include a full bathroom with a built-in tub. As well, he was one of the first builders to install a kitchen range that included an oven in his trailers instead of the commonly used two or three burner countertop hot plate.
Evidently, Platt primarily made larger trailers that were most commonly used for residential use but could still be legally towed behind a family car. His specially insulated models, complete with skis, were made to be pulled across arctic ice and served as housing for army personnel manning the Cold War DEW LINE in northern Canada and in Greenland.
In the early 1960's, as trailers became bigger and bigger, Platt had troubling fitting them onto his assembly line, so he closed his manufacturing operation and opened an RV dealership instead. He became the first franchised dealer for Coachmen and Jayco brands.
Harold Platt was one of early inductees in the US National RV Hall of Fame for his groundbreaking innovation and work in supporting the early development of the travel trailer industry from the 1930's and onward.
Share your classic RV restorations, or tell us your favourite story about a cool vintage unit you've encountered by filling out our Classic Vintage RV form.