Camping with a cool retro vibe
At Retro RV, customers can be reminded of past good times while enjoying the conveniences of the present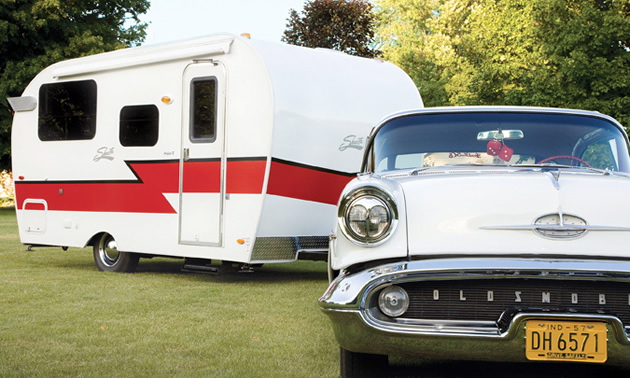 Like so many of Saskatchewan's newest entrepreneurs, Darci Schapansky's entry into business began with a return to her roots.
Schapansky had enjoyed camping in both Alberta and B.C. before moving back to Emma Lake, Saskatchewan. Now married with a young family, Schapansky wanted a budget-conscious holiday and opted to rent an RV. That move sparked the idea for a business venture of her own.
"The idea sort of developed out of our own needs," said Schapansky. "For us, buying a trailer would have meant we needed to buy a whole new truck to pull it, and then we'd need to make sure it had enough seats for everyone in the family. It was just much easier for us to rent. Plus, like a lot of people who think they would enjoy camping, we wanted to try it out first to see if it's worth making the investment in a trailer."
Schapansky set out to learn how she might be able to offer trailer towing and rentals from Emma Lake to the myriad of lakes and campsites in her region. These include Christopher Lake, Candle Lake and Valley Regional Park in Rosthern as well as Waskesiu Lake in Prince Albert National Park and, a little farther afield, Big River and Ness Creek.
Schapansky decided that she would haul trailers to pretty much anywhere that travellers would be willing to pay to have one towed to, enabling those who utilize her service to have all of the joy of camping without any of the overhead.
With a business plan percolating, all Schapansky needed was a theme to brand her new business. Enter two 2009 Shasta trailers. Made retro-style, they harken back to an era Schapansky and plenty of others are drawn to. The Shasta Airflyte 12 travel trailer became the first of her fleet.
"Shasta only made the retro-styled trailers in 2009," said Shapansky, "and when we started the business in 2010 there just happened to be two left in Saskatchewan that the dealership was keen to get rid of."
Schapansky was attuned to retro style thanks to a graphic-designer friend in Calgary who specializes in mid-century modern. Soon Retro RV was born.
Today, in addition to the two Shastas trailers, Schapansky's company also rents a Trillium 1300, which is an updated version of the popular 1970s brand, as well as an Airstream that was built in 1992 with all the classic earmarks of an original.
While the retro theme is what got Schapansky started, it by no means is her only revenue stream. Retro RV also rents out newer and larger trailers and will soon be brokering the rental of trailers by owners whose trailers sit unused for a good portion of the year.
Still, Schapansky's heart lies with the cool factor of some of her older trailers.
"They're small," admits Schapansky, "and the Shastas are 100 per cent electric, which is both good and bad, but that makes them easier for professionals and single parents who want the camping experience without the towing and maintenance involved. It also makes it easier for those who feel a little leery of using propane for the first time."
These RVs are a real hit with those who remember camping in similar units when they were young.
"Our Retro RV's allow them to experience all of those old memories in a brand new way," said Schapansky.
Share your classic RV restorations, or tell us your favourite story about a cool vintage unit you've encountered by filling out our Classic Vintage RV form.