Vintage RV: Early 1990's Lodestar Motorhome by Champion
The Champion family of builders has produced more than 1,700,000 factory-built manufactured homes, modular homes and mobile homes.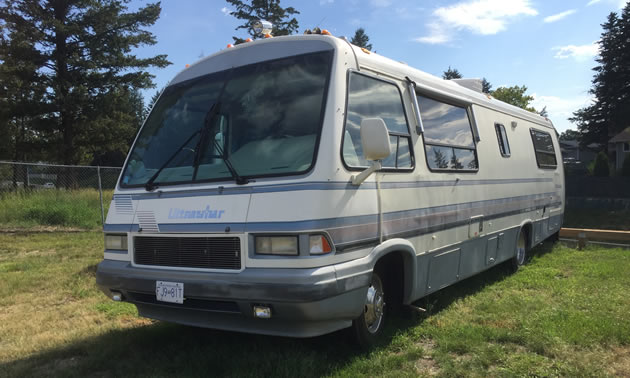 Here's another vintage RV I see regularly on the way to the office every day. Turns out it is a 1970's Lodestar by Champion.
This Lodestar was purchased by Bill Vlaxton of Cranbrook this spring. He says, "We were looking for a good solid motorhome and this 1991 Lodestar caught our eye in the Okanagan. So we drove over in April and made the deal. Then ended up driving it home in a snowstorm."
Bill says, "We've since taken it out on a couple shakedown trips and we're getting just over 10 miles per gallon." He adds that so far he and his wife are loving the smooth ride and spacious interior of this big old motorhome.
Here is a typical description of the Lodestar motorhome, "1992 30 ft RV Loaded, Queen Bed, Dinette Folds Down Sleeps 2, P-30 GM Chassis, 454 W/Electronic Trans, Air Ride, Good Tires, Steering Stabilizers, Onan 6500 Watt Generator, 2 AC units Heat back/up, Furnace, Fridge/Freezer, Hot Water Heater, Shower, Large Propane Tank, and Storage Tanks (Fresh, Gray, Black). Plenty of Storage Area, All Wood Cabinets, Corian Counters."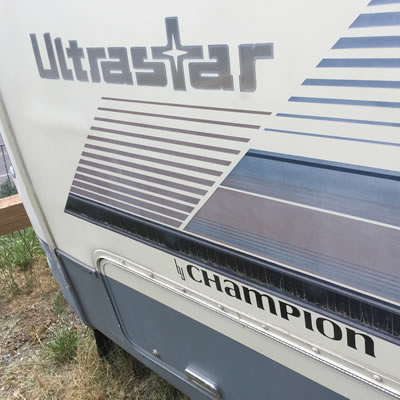 You can see that Lodestar generally came loaded with just about every conceivable option and amenity that an RVer might want.
Champion Homes, or Champion Home Builders, is a mobile and modular home manufacturing company. It is the second largest modular homebuilder in North America.
For a short span of time from the early 1970's to the mid-1980's Champion built motorhomes as well – producing the high end Lodestar by Champion.
Nada Guides points out, "Champion built motorhomes from the early 1970s until the mid-1980s. While Dodge powertrains supplied the momentum for Champion Class A motorhomes through the 1970s, the Class C between 16 and 22 feet were powered on General Motors chassis frames. 1986 was the final year of Champion motorhome production."
Wikipedia states, "Champion Homes was founded in 1953 as a single manufacturing facility in the small town of Dryden in rural Michigan by Walter W. Clark and Henry E. George. In 2005, Champion was the first manufacturer to build privatized modular housing for the military. In 2010, Champion filed for bankruptcy and was acquired by an investor group led by Centerbridge Partners, MAK Capital Fund LP and Sankaty Advisors and company lenders led by Credit Suisse. The company later recovered. Champion Homes is primarily a manufacturer of mobile and modular homes, but they have also built motorhomes, travel trailers and commercial buses. "
Another source states, "The company (Champion Homes) sold its money-losing recreational vehicle division (Lodestar by Champion) in October 1992 to Firan Motor Coach, Inc. for $621,000."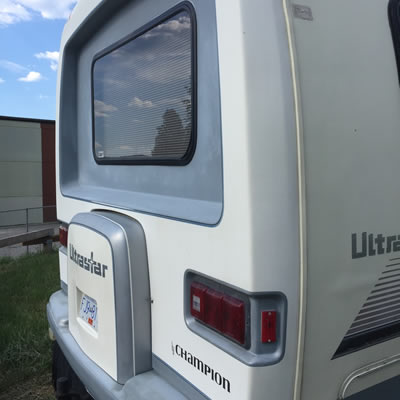 Champion Homes is still headquartered in Michigan, and has 32 manufacturing facilities located across the United States and Europe. Worldwide, Champion Homes employs over 5,000 people.
Here's Champion's corporate take on their company today, "Among manufacturers, Champion is one of the most storied — our company was founded in 1953 as a single facility in a small town in rural Michigan. We're one of the top builders of manufactured and modular buildings in the world, with 28 facilities located throughout North America. More than 5,200 dedicated employees serve our customers worldwide. The Champion family of builders has produced more than 1,700,000 factory-built manufactured homes, modular homes and mobile homes."
Though there is no evidence that Champion Homes ever re-entered the motorhome market. The company continues to thrive, but is no longer active in the motorhome market. However, a 2015 report touts the fact the Champion signed an agreement with Winnebago to sell park models, "Champion Home Builders, Inc., a leader in the manufactured homes and Park Model RV industry and one of the largest modular home builders in North America, announced today that they have entered into a licensing agreement with leading recreation vehicle manufacturer, Winnebago Industries, Inc., for a line of Park Model RV's. The license agreement between Winnebago and Champion was brokered by Winnebago's exclusive North American licensing agent, Brandgenuity.
"We are very excited about this unique licensing opportunity and see the Park Model RV business as a natural extension of our Winnebago brand," said Chad Reece, Director of Marketing at Winnebago. "Based on their history of innovative, quality products and customer satisfaction, we feel that Champion Home Builders is a great choice to carry the Winnebago name into the Park Model RV space."
There is Lodestar fan/club page on the internet, though it doesn't appear too up to date. Here's the club description: "The Ultrastar by Champion Motorhome Club (UCMC) is a non-profit organization of Ultrastar owners and enthusiasts. Ultrastars are among the highest quality motorhomes on the road though their number is few. The purpose of this web page is to share information about Ultrastars between owners and provide the only known website dedicated to this fantastic motorhome that was built before its time."
Got a Vintage RV story or photos? Share it with us at [email protected]