Vintage RV: Early 1970's Triple E Motorhome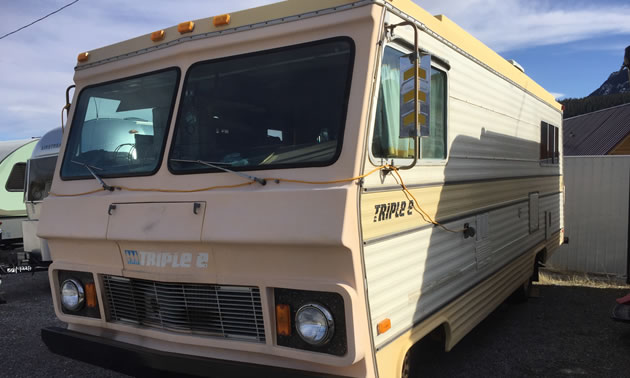 These old Triple E motorhomes keep popping up wherever we go these days. Here's another one we discovered on a roadside lot near Blairmore, Alberta. Despite the electrical cord dangling out of this model—no it's not the Tesla electric model.
There definitely seems to be a lot of these early Triple E motorhomes still around and many remain on the road racking up the mileage—a testimony to their quality construction.
Here's what NADA price guides say about the Triple E motorhomes: "A Canadian recreational vehicle producer since the 1960s, Triple E has been engaged in the United States motorhome market since 1984. Class A and Class C motorhomes, the Triple E assortment of vehicles are reputable for being reliable, quality built products. Towable products would be introduced under the Triple E name through the 1990s. Though the years, Triple E has added a sizable line-up of fifth wheel trailers and travel trailers ranging from 22 to 34 feet in length."
By 1981 Triple E was manufacturing more than half of the Class A RVs sold in Canada. During this era the company made various acquisitions of other manufacturers and factories in Manitoba, Alberta and Ontario. P.W. (Peter) Enns founded Triple E as a Winkler, Manitoba business in 1965 as a way to provide employment for staff at his heating and plumbing business—he then recruited Philipp Ens and a second son-in-law, Peter Elias, to help lead. The company celebrated 50 years of operation in 2015.
Unfortunately, Triple E doesn't produce Class A motorhomes anymore. Triple E has put all their resources and attention into building the popular Leisure Travel Vans.
These Triple E class A motorhomes usually featured a Chevrolet chassis, 454 V8 engine, 3-speed automatic transmission, one-piece fiberglass roof, insulated undercarriage and was often said to drive like a sports car.
Do you have a vintage RV or motorhome story or photos to share? Let us know at RVwest—[email protected]