Vintage RV: 1990's Okanagan Camper Van
With its compact set-up and ease-to-drive, the Okanagan Camper Van was a popular unit back in the day.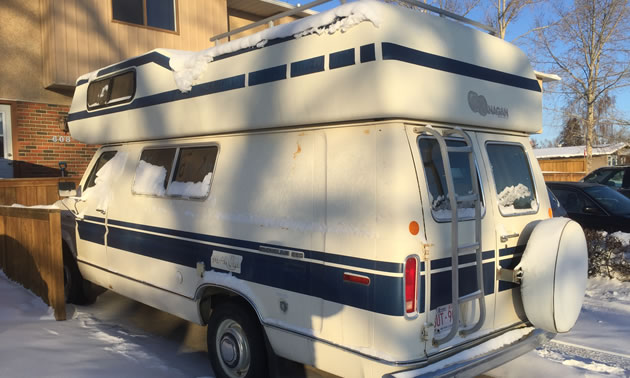 Back in the late 1970's and 1980's the proliferation of Okanagan Camper Van conversions was quite amazing. . .They seemed to be everywhere, which explains why there are still so many on the road today.
Built at a now defunct manufacturing plant in Penticton, the Okanagan Camper Vans were a simple concept. Simply slice the top on a Dodge or Ford van, add a fiberglass bubble to the top to provide some extra headroom, equip it with the amenities of camping: stove, bunk beds, sink, running water, furnace etc and voila! You had an easy-to-drive, easy-to-maneuver camping unit.
Here's an interesting comment from a proud owner of an Okanagan Campervan: "This is my second. 1982. My first was a 1984. Both Dodge. I have seen two others in 30,000 km of driving. One was on a Ford frame, the other another Dodge. What makes this van so great is that the upper bunk can sleep an adult male and a small female so the useable space is very "RV like". It has a 2 burner stove, an oven, three-way fridge, 16,000 BTU heater. I have installed a fantastic fan (essential) and a 1000w inverter. Built in British Columbia."
Also here is an article/forum posting datelined September 12th, 2008 out of Pentiction: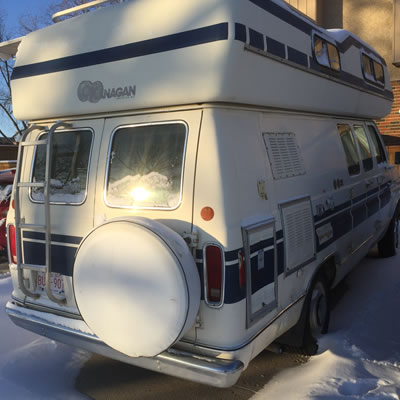 PENTICTON, British Columbia – "Citing a weak dollar, high fuel prices and dimminished demand, West Coast Leisure Homes announces it will cease production of Okanagan truck campers on Sept. 12. The company is known for its truck camper line, but also manufactures fifth wheels and travel trailers. It is not known how many workers will be impacted by this closure.

In a letter delivered to dealers yesterday, Okanagan President Chris Epp explained the reasons behind the closing. Here is what he wrote:

To our valued dealers and customers,

As you are aware by now, West Coast Leisure Homes Limited will be closing the factory doors on Sept. 12, 2008.

This has been a difficult decision for all of us to make. As you are also aware, our order bank has dried up and the orders that are coming in are not enough to sustain our operation. The cause of this problem is not news to anyone. The Canadian dollar is trading at parity with the U.S. dollar and North American RV market is in a significant slump and fuel prices are at levels that we have never seen before.

I wish to clarify that this is not a bankruptcy closure, as was the case of many of our competitors recently. We are winding down the operation and if things turn around in the next few years, we will be in a position to restart production again.

The company will continue to maintain the warranties on existing Okanagan product, whether they be sitting out on your lot or one of the units we will be producing prior to closing. The details of how this will be handled will be worked out over the next two months. But, for now, you will continue to contact Bob Herbert at our office.

I wish to inform you that we have about 50 truck campers that we need to sell over the next six weeks. To accomplish this, we are going to discount the units according to the following schedule. It should also be noted that any campers previously ordered, but not delivered at this time, will also receive this discount.

In conclusion, I wish to thank all of our loyal dealers for their support over the years and I wish you much success as you move forward."
Though the factory was wrapped in 2008, the legacy of the Okanagan camper van and other Okanagan units are still a common sight, primarily across Western Canada.
Share your classic RV restorations, or tell us your favourite story about a cool vintage unit you've encountered by filling out our Classic Vintage RV form.