Retro RVing
Patty Kolesnichenko and her family enjoy a life of retro RVing—their very first camper, a Boler, whet their appetite for a life of vintage camping
by Lisa Crane —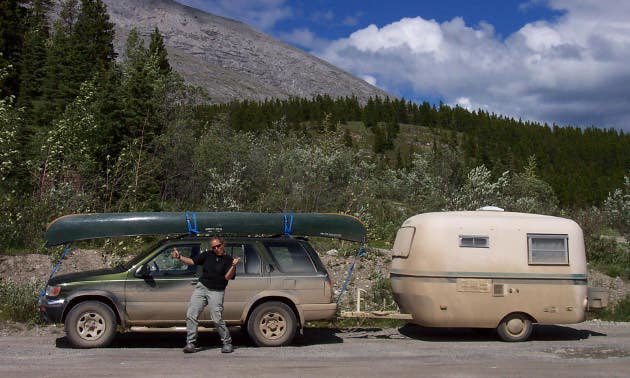 Patty Kolesnichenko, her husband, Lyall, and daughter, Sarah, have graduated to a new RV: a 1974 Scamper Camper. It has more space and a few more "modern" amenities than their previous camper—and they love it. But Patty said it was very difficult for the family to part with their 1974 Boler, which had served them well.
"We bought the Boler in 2004 and we had always wanted one because they are the coolest little campers," said Patty. "The previous owners had renovated the interior and it looked and felt like peach fuzz—there were even matching cushions and curtains."
The couple were living in the Northwest Territories when they purchased the Boler. They have taken it on many a trip—including to Haida Gwaii, Yukon and numerous places in British Columbia—to discover these areas' best kept secrets.
"It really is a bear- and bug-proof tent," said Patty. "We explored a lot of remote bear country and it gave me peace of mind and I always felt really comfortable."
The family doesn't spend any time inside when they camp, said Patty, so the Boler was perfect for them. All they needed was a place to retreat to if necessary.
Everything's peachy
Patty said the Boler gets a thumbs-up for the fuzzy decor and its compact, well-thought-out floor plan. When their daughter, Sarah, came along, it continued to suit the family well.
"Sarah is constantly asking when it is time to go camping and has the best sleeps when we are in the fresh air," said Patty.
Having this egg-shaped trailer certainly generated some conversation.
"We were always sharing stories and fun comments with whoever we met," said Patty. "I have heard about the Bolerama and Eggfest events and always wanted to go, but never made it."
Patty said she enjoyed a music gathering at Atlin Lake, B.C., one year in the company of many other Boler-minded people and their campers.
"One thing I remember is that they are certainly not soundproof," she said.
Small is beautiful
The Boler's size, of course, is one of its greatest advantages.
"The beautiful thing about these campers is that you can take them anywhere," said Patty. "If you don't like the view where you are, you can just pick it up and move it to a better position—they are that light."
The family has since sold their Boler and Patty said she has to say that she does regret it. But when they moved from the Northwest Territories to British Columbia, they could not justify the logistics of taking it with them.
"The people who bought it had been driving by, waiting for a sign to go up, and it sold in a day or two," said Patty. "I feel OK about that—they were so happy."
Patty and Lyall have some adventures in mind for their "new" retro camper. And as was the case with the Boler, they feel good about travelling with their vintage Scamper Camper.
"I feel that having these campers is a form of recycling and reusing," said Patty. "The funky factor is just part of it."
Patty said her family will be doing lots of adventuring this summer. They have a long list of places to explore and return to.
Share your classic RV restorations, or tell us your favourite story about a cool vintage unit you've encountered by filling out our Classic Vintage RV form.