Vintage RV: Classic 1970's Triple E Motorhome
Around 1981 Triple E was manufacturing more than half of the Class A RVs sold in Canada.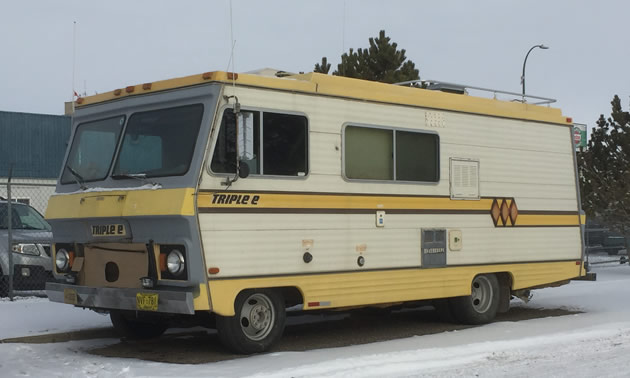 A few weeks ago we talked about the idea of using vintage motorhomes for housing the homeless. Here's another example of a vintage motorhome which appears to be serving as someone's permanent or semi-permanent home.
These old Triple E motorhomes just keep popping up these days. We discovered this well-maintained, crisp-looking unit, on a street side in southern Alberta. There definitely seems to be a lot of these early Triple E motorhomes still around and many remain on the road racking up the mileage (and in this case serving as someone's home on wheels)—a testament to their quality construction.
NADA Guides make this statement about the Triple E line-up of motorhomes: "A Canadian recreational vehicle producer since the 1960s, Triple E has been engaged in the United States motorhome market since 1984. Class A and Class C motorhomes, the Triple E assortment of vehicles are reputable for being reliable, quality built products. Towable products would be introduced under the Triple E name through the 1990s. Though the years, Triple E has added a sizable line-up of fifth wheel trailers and travel trailers ranging from 22 to 34 feet in length."
Evidently, around 1981 Triple E was manufacturing more than half of the Class A RVs sold in Canada. During this era the company made various acquisitions of other manufacturers and factories in Manitoba, Alberta and Ontario. P.W. (Peter) Enns founded Triple E as a Winkler, Manitoba business in 1965 as a way to provide employment for staff at his heating and plumbing business—he then recruited Philipp Ens and a second son-in-law, Peter Elias, to help lead. The company celebrated 50 years of operation in 2015.
Triple E class A motorhomes often featured a Chevrolet chassis, 454 V8 engine, 3-speed automatic transmission, one-piece fiberglass roof, insulated undercarriage -- they were often said to drive more like a sports car than a motorhome. (That comment would be by the 75+ driver behind the wheel, we would assume)
As we have stated before Triple E does not manufacture Class A motorhomes any longer. The Wrinkler company has put all their resources and attention into building their popular line-up of Leisure Travel Vans -- which we understand they are having trouble keeping up with all their orders.
Share your classic RV restorations, or tell us your favourite story about a cool vintage unit you've encountered by filling out our Classic Vintage RV form.