Vintage RV: Mystery Vintage Motorhome — what is it?
Can one of our astute RVwest readers help identify this mystery RV?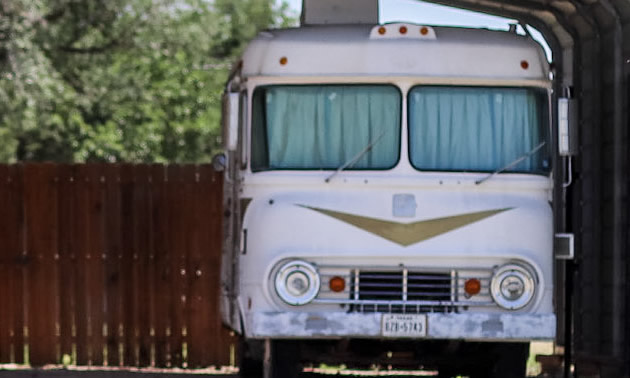 We recently heard from RVwest reader, Tom Van Damme. Evidently on one of his travels down south, he spotted a vintage RV sitting in a garage and he snapped a passing shot of the front of the unit. When he got home and was looking through his photos he started to wonder what make of RV it was.
Tom wrote, "On my last travel throughout the states, I made this (unfortunately, not very sharp) picture. It was only at home that I saw what a nice vintage RV it was. Curious as I am I wanted to know more about it, but searching Google images high and low for vintage RVs, I do not seem to find this exact type of RV. I can't find out the brand or type. I hope you can give me more info on this motorhome? Many thanks in advance!"
We open it up to our eagle-eyed readers of RVwest — can you help Tom identify this mystery vintage motorhome? Unfortunately, Tom's photos didn't capture any logo(s) or nameplate(s) so the brand is difficult to figure out.
Some of the distinguishing features of this motorhome are: split windshield, small chrome grill, distinctive small round chrome headlights, and large golden "V" across the front.
My first thought was that it might be an early Travco, Dodge-based motorhome, but that's only a guess. Can you help Tom figure out what this mystery motorhome might be?
Share your classic RV restorations, or tell us your favourite story about a cool vintage unit you've encountered by filling out our Classic Vintage RV form.