Vintage RV: Rare 1988 Vanguard 24' Class C Motorhome
Vanguard was a famous brand name in the Canadian RV manufacturing world back in the 1970s and 1980s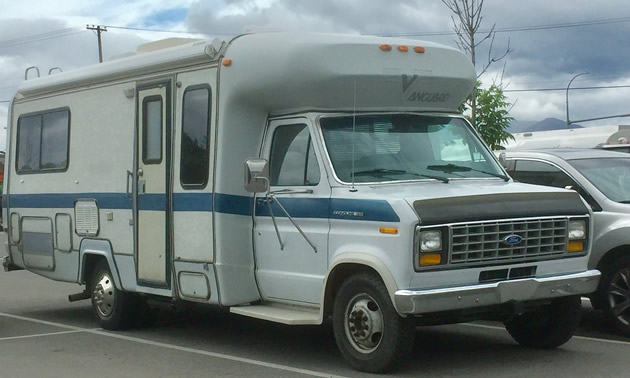 Last week, we spotted a 1988 Vanguard 24' Class C motorhome with a fiberglass body mounted on a Ford 350 Econoline chassis, with a 460 HP gasoline engine parked at the local Canadian Tire. These particular units are somewhat rare as their initial production run was limited.
In 2003, RV Business, an industry trade journal wrote, "The assets of bankrupt Canadian RV manufacturer Peak Manufacturing Inc., North Battleford, Saskatchewan, are expected to be acquired soon by Edmonton-based Winalta Inc., a company that builds manufactured homes and modular homes in Canada.
The acquisition for $6.4 million (Canadian) is subject to approval by a Canadian court, which is overseeing the disposal of assets of the Peak Group of Companies, Saskatoon, Saskatchewan. The RV manufacturer's parent company Peak Group filed for bankruptcy in September.
Peak manufactures Vanguard, Frontier, Security and Kodiak Class Cs, fifth-wheels and travel trailers from plants in North Battleford and Thetford Mines, Quebec.
"Operations of the (Peak Manufacturing's) North Battleford manufacturing facility will not skip a beat," said James A. Sapara, Winalta's chairman and CEO. "This acquisition provides meaningful diversification and is anticipated to contribute to the company's (Winalta) solid record of growth."
A follow up story penned by Sherman Goldberg, publisher of RV Business in 2006 stated, "Winalta Inc., a publicly owned Canadian company, has acquired the outstanding shares of RV manufacturer Vanguard Inc., North Battleford, Saskatchewan, and now owns 100% of the company that it created in a partnership in 2003.
The financial aspects of the deal – in which Winalta obtained 30% of Vanguard shares that were outstanding – were not disclosed.
Winalta, based in Edmonton, Alberta, produced manufactured homes and modular housing until 2003 when it acquired the assets of bankrupt Peak Manufacturing Inc., and formed Vanguard as the majority owner.
Vanguard manufactures Vanguard, Frontier, Security and Kodiak Class C motorhomes, fifth-wheels and travel trailers from plants in North Battleford and Thetford Mines, Quebec.
Initially, Winalta planned to proceed with Peak's plans to produce a U.S. version of its Kodiak mini-motorhome in South Bend, Ind., but later decided against the move.
Winalta President Frank Dixon said in a press release that Vanguard recently debuted a line of industrial trailers particularly suited for harsh Canadian weather.
"We anticipate that as we go forward our new industrial line of trailers will provide oil workers and others working in the north the reliability, accommodations and communication support to be comfortable in a harsh climate," Dixon said. "This will help Vanguard improve profitability and contribution to Winalta Inc."
As far as we can determine Winalta never did continue to produce motorhomes, fifth-wheels or travel trailers under the Vanguard, Frontier, Security or Kodiak brand names.
Vanguard was a famous brand name in the Canadian RV manufacturing world back in the 1970s and 1980s, though Vanguard was seemingly better known for its lineup of travel trailers and campers rather than their Class A or B motorhomes.
Neonex (one of the early owners of the Vanguard and Frontier lines) had multiple manufacturing locations in Western Canada at one point in time and Winfield (just north of Kelowna) seemed to be the primary manufacturing operation of Neonex Shelter Industries back in the 1970s.
Share your classic RV restorations, or tell us your favourite story about a cool vintage unit you've encountered by filling out our Classic Vintage RV form.