Vintage RV – Another 1960's Citation model T-15 appears
RVWest reader William Ball shares the story and pictures of his newly acquired Citation Model T-15 trailer.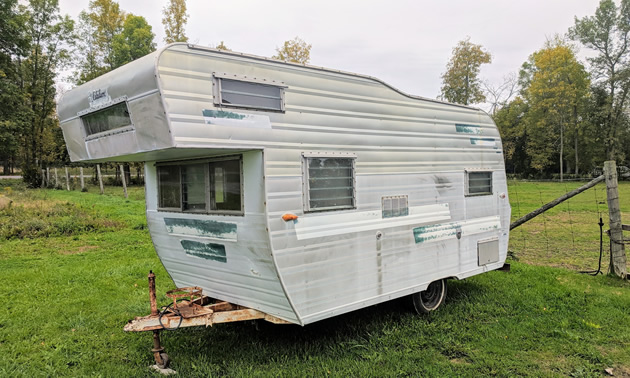 A couple of months ago we heard from RVwest reader and vintage travel trailer enthusiast, William Ball of Ontario.
"I have just purchased a Model T-15 as well. Made in Tweed, Ontario. I plan on restoring the exterior but sadly the interior is in poor condition and will be gutted," said William Ball. "I have attached a picture of the unique design. Any info that you could forward on I would love to get."
Then William followed up with another comment, "Like I said we believe it was produced in Tweed. I live in the Kingston area. The attached pictures show the logos. There is a little damage to the bunk over but can be gently pushed back. The roof is corrugated steel from front to back. Really well seamed and although it is rust covered the metal hasn't lost any significant thickness so I am very hopeful it can be fully restored. I'm pretty excited about this (project)."
RVwest readers probably remember the comments from Suzanne King — she wrote, ""Mine also has the original manufacturing tag, but that didn't help much in my research either. The seller thought that there were certain features that make it a 1959. You can see the outline of a Citation sticker on the front and back, so maybe the brand changed?"
We observed in a previous Vintage RV article, "It is interesting to hear of a Citation travel trailer connection because if I am not mistaken, General Coach—also an Ontario travel manufacturer—built a line of Citation trailers, though this seems to pre-date that era."
Though it seems like William Ball's travel trailer is more closely related to the 20th Century models we have featured in this column before.
"This little trailer (20th Century Model T-15) still has its original manufacturer tag on its side, which is sometimes a rarity with these older, vintage units. The metal tag reads "20th Century Mobile Homes Limited, London, Ontario: Model T-15 and serial number RT-5797.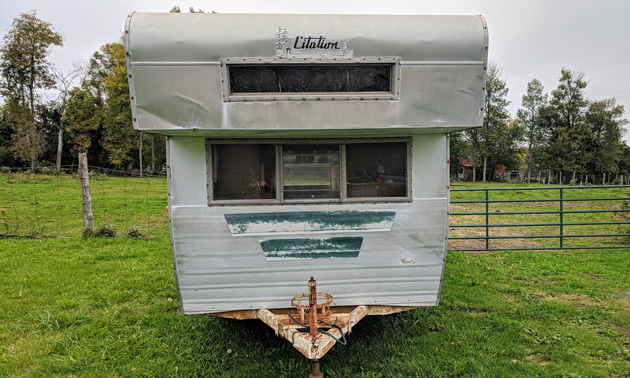 "A cursory search of a few vintage trailer sites doesn't bring up much information or many details on the history of this 20th Century travel trailer. In fact, there is no mention of this particular unit or model that I could locate. However, there is a London, Ontario connection to Glendale Trailers, but details are still a little sketchy."
Here's a link to the original article we wrote about these vintage trailers.
Thank you to RVwest reader William Ball for sharing his vintage travel trailer story.
Do you have any other information about the 20th Century Travel Trailers? Or do you have a Vintage RV story and photos to share? Share your classic RV restorations, or tell us your favourite story about a cool vintage unit you've encountered by filling out our Classic Vintage RV form.