Vintage RV: 1992 Phoenix by Cobra Motorhome
We hope Ken and Barb have many years of enjoyment camping in their "new-to-them" Phoenix by Cobra motorhome.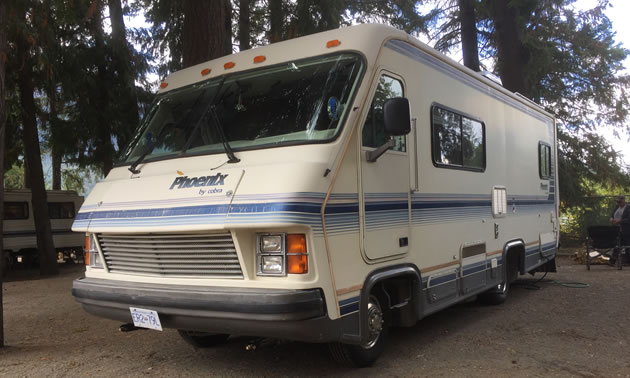 Sitting beside the idyllic shores of Slocan Lake were Ken and Barb—no, not Ken and Barbie—but Ken and Barb from Barriere, B.C. They were out for a late season camping trip in the beautiful Slocan Valley and were proudly trying out their newly acquired 1992 Phoenix by Cobra motorhome.
Their unique motorhome caught my eye, so I thought I would feature it as our Vintage RV unit of the week. I have shared some background on these motorhomes, which like so many others are no longer being manufactured. Cobra Industries, the manufacturer of these motorhomes, went out of business in 1995.
According to NADA guides, "First constructing Class A motorhomes during the 1993 model year, Phoenix by Cobra were powered by gasoline and diesel power plants. Ranging from 25.5 to 37 feet in length the motorhomes were designed to cater to family vacationing needs. Phoenix by Cobra ended production after the 1995 model year."
In a 1995 press release Cobra Industries announced its shutdown, "Cobra said it is exiting its Indiana-based motorhome business, which manufactured Class A and Class C motor homes, resulting in the one-time charge for discontinued operations. This charge reflects a first quarter operating loss of $2.4 million in the motorized business, as well as anticipated future costs of $4.9 million for closing the operation. Cobra's motorized products incurred an operating loss of $8 million during 1994."
At the time the press release stated, "Cobra Industries is one of the five largest manufacturers of recreational vehicles in the United States and Canada. RV models include conventional trailers, park trailers, folding camper trailers and van conversions. Headquartered in Goshen, Indiana, Cobra has manufacturing and distribution facilities in Indiana, California, Texas and Georgia."
Here's another quote about the Cobra motorhomes, "An Indiana builder of Class A and Class C motorhomes, American by Cobra came to the marketplace in 1987. Ranging from 21 to 36 feet in length, American by Cobra motorhomes are built with basic amenities in place for weekend camping. The final production run for American by Cobra brand was during the 1992 model year. Three years later, parent company Cobra Industries Incorporated completely exited the motorhome business."
Some of the assets of Cobra Industries evidently were purchased by Forest River.
We hope Ken and Barb have many years of enjoyment camping in their "new-to-them" Phoenix by Cobra motorhome and continue to discover delightful places to camp like the shores of Slocan Lake around New Denver.
Do you have a Vintage RV story? Share it with us [email protected]