Vintage RV: 1980's Rustler Travel Trailer and the history of Travelaire
The popular Rustler model was one of Travelaire's best-sellers when the company was on top of the RV business in the 1970s & '80s.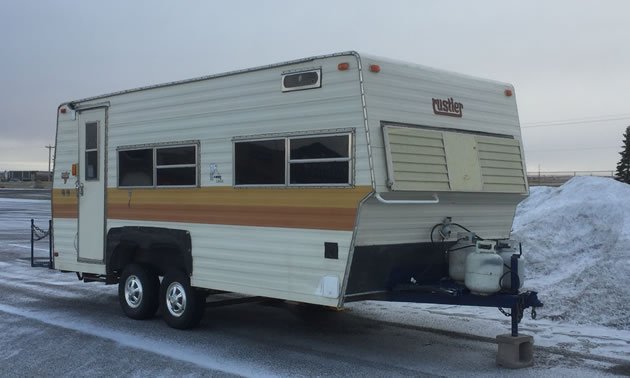 We spotted this clean-looking Rustler trailer sitting on a shopping centre parking lot, advertised for sale. It looks like a mid-1980's to early 1990's model.
The popular Rustler model was one of Travelaire's best sellers when the company was on top of the RV business in 1970/1980's. There are still lots of Travelaires, and more specifically, Rustler models on the road these days.
NADAguides had this to say about Travelaire: "A Canadian recreational vehicle manufacturer founded in the mid-1960s, Travelaire had constructed a diverse selection of products for vacation enjoyment. Initially producing a 16-foot travel trailer, Travelaire expanded into fifth wheel trailers, park models, truck campers and Class C motorhomes over the course of 40 years. Bought by the Firan Corporation during the late 1980s, Travelaire was operated by Glendale International Corporation until bankruptcy in 2010. Since the closure of Travelaire, trademarks of the recreational product maker have been distributed to other companies including Triple E."
According to NADAguides this is what a Travelaire trailer typically was equipped with: "1997 prices include awning, DSI water heater, bedspread, pillows & shams, roof air, microwave, exterior shower, stabilizer jacks, spare tire with carrier & TV antenna in addition to what is standard. FW's also include power front jacks (except drifters) and roof rack with ladder. Drifters include 6 cu. ft refrigerator, range oven, power vent and stereo. Prestige includes deluxe vent, exterior stereo, skylight (M-286), vacuum (M-286 & 290), thermal windows and CD player."
This intriguing article appeared in the Red Deer Advocate newspaper of April 8, 2010, on the day of the bankruptcy sale of Travelaire's assets. The account gives a good background profile of the company as well as a timeline of its development, history and subsequent bankruptcy:
"As Travelaire's parent company Glendale International Corp. sells off items in a bankruptcy auction today, the past owners reminisce about how the company began and the hard work that went into more than 40 years of RV production in Red Deer.
Former owner Bill McCartney, who celebrated his 85th birthday on Wednesday, said it's sad to see the company where it is right now. "You know where it's sad is the employees," said his wife Mattie McCartney. "Some of the employees have been there for 40 years and even started in Edmonton and those are the ones that I feel sorry for."
However, the McCartneys — who spend their winters in Phoenix, Ariz. and summers in Red Deer — have great memories of building a business that was close to their hearts. If not for a rained out honeymoon trip and a detour to California, Travelaire might never have become a reality."
In the Advocate article Bill McCartney talks about the early days at Travelaire:
"In 1962, Bill McCartney was working at General Motors in Edmonton as assistant used car manager. He'd recently married Mattie and they'd headed off to the Seattle World's Fair, but after two days in the pouring rain they decided to head to California.
On the way, they drove by a service station lot showcasing four new travel trailers. When McCartney saw the trailers, he knew he had to bring one home so the young couple went to the Kenskill trailer factory. They talked to the sales manager who said there were none available, but McCartney wouldn't take no for an answer and went back to talk to the owner who agreed to sell him one.
McCartney and his friend Bert Sladden had tried to order trailers previously, but couldn't have their order filled. At first they thought they would sell the Kenskill trailer McCartney brought back and others they would order. Then they decided to build their own at a small factory in Edmonton. A prototype was created and McCartney and Sladden showed it off to potential shareholders, with 20 putting in $42,000 and them borrowing an additional $15,000 from the bank to start Travelaire. "You can't even buy a 16-foot trailer for that today," McCartney joked.
In 1963, he stopped working at GM, having to give up the new demonstrator car he drove and instead purchase one that was over a decade old — a 1952 Chevrolet. When McCartney went to talk to suppliers and others, he would park the old car a couple of blocks away because image can be everything in sales. They were lean years. The factory would have enough money for parts for five units at a time. As they sold the trailers they would buy parts for five more. In the first year they sold 85 16-foot trailers.
"I was very proud at the time that we got it off the ground and we were paying our bills," McCartney said.
There was a lot of work to do. McCartney often served as retail salesman, as well as doing accounting, invoicing, purchasing, payroll, hiring, firing, sweeping, cutting grass and even cleaning the toilet at the 5,000-square-foot building. The hours were long and the days off few. His young wife Mattie would have to take their son Tom to the factory to see his father.
By 1966, Travelaire was ready to expand. They received such a good reception from Red Deer city councillors and staff that they moved their operations to the city, building a 22,000-square-foot factory at 6702 Golden West Ave. They completely redesigned the exterior of their trailers in 1967. Called the La Jolla, or the Jewel, the eye-catching design came in various colours and eventually had stoves, iceboxes, heaters and toilets in models ranging from 16 to 25 feet."
McCartney sums it up as a family affair in the newspaper article:
"McCartney attributes their success to their employees and the relationships built up with their dealers and customers. A dealer network was set up so that every time a dealer sold a trailer during the fall into winter they would receive points to earn a trip away with McCartney, his wife and other dealers, administrative staff and even some assembly line staff and their wives. Each summer they hosted rallies for Travelaire owners, with 400 to 500 people gathering for barbecues, breakfasts, dances and live music.
"When they said Travelaire was a family affair, it really was," Mattie said.
In 1969, Travelaire sold the company to Neonex International.
McCartney and Sladden bought Travelaire back in 1974, rebuilding it and expanding operations in Ontario, but then sold it again in 1988 to Firan Corporation. In 1999 the company changed its corporate name to Glendale International Corp. Travelaire's parent company Glendale International Corp. filed for bankruptcy in January."
Do you have a vintage RV or motorhome story or photos to share? Let us know at RVwest—[email protected]