Unwrapping the incredible story of a Canadian RV pioneer — Albert J. Belanger and his Moto-Chalet
Thanks to our RVwest readers for shedding some light on the Moto-Chalet story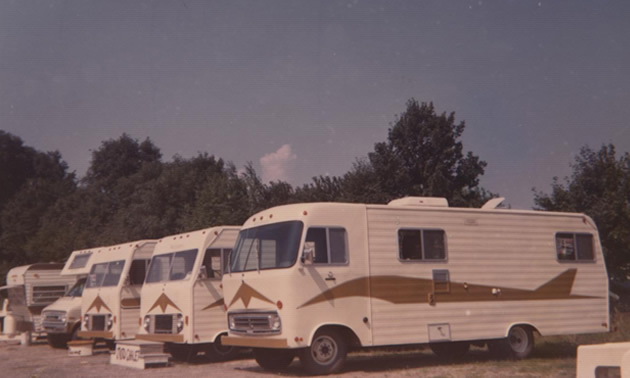 One of the very first vintage RVs we posted on our website RVwest was a photo and a write-up on a rarely seen Moto-Chalet, a unique, rather mysterious motorhome we could not find much information about. Turns out this is one of the most incredible, yet largely unknown stories, of a true pioneer in the Canadian RV industry.
However, our trusty readers of RVwest shared some of their insight with us. First we heard from Caveau Grenier, who wrote to us the following: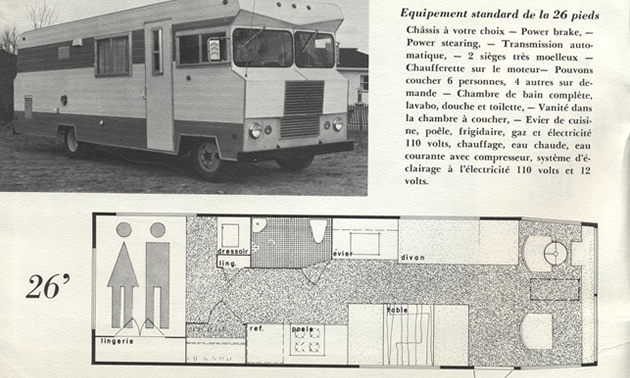 "The Moto Chalet was made in Saint-Nicolas near Quebec City, P.Q. The owner of the company was a French man from France and his name was Bélanger. In fact, he was our neighbour, around 1968-1975."
Then we heard from Vern Belanger, who has a family connection to the Moto-Chalet. In fact, it was his father who founded the company in Quebec. Vern told us: "My father's ancestors were French Canadian all from Gaspesie, more precisely St-Jean de Cherbourg, not too far from Matane P.Q." Here are some more of Vern's comments, (edited slightly):
"My father was the CEO/founder of this Moto-Chalet company at St-Romuald Quebec on St-Hilaire Street. I want to build a website this year, as I have all the archives of the company," said Vern Belanger.
He added, "My father started the company in 1968 and closed it in 1974 because of the oil crisis (my father died in August of 1976)."
"This particular model has the characteristic of steel-square tubing frame, if I remember this was the 1972 model. It was manufactured just before the new generation mono-shell. We built a mono-shell model without propane. It was all electric 12v-110 with the engine heating the interior, because some customers were scared about natural gas."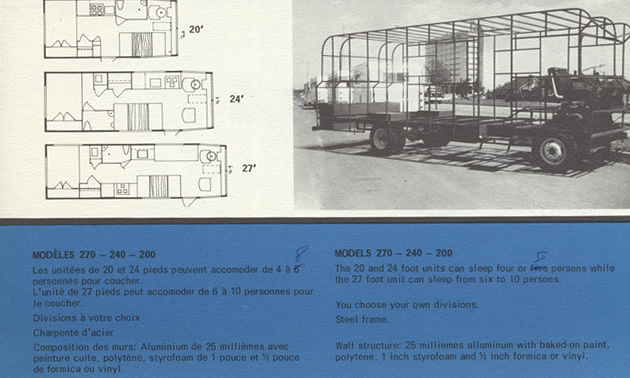 And that's not all. Here is some more information from Vern Belanger on his father's motorhome company:
"His name was Albert J. Bélanger, a self-made man, and founder/CEO of Moto-Chalet. He started the fabrication of RV motorized because he hated to pull a trailer. At this time we can park everywhere in the US-Canada so we did not need to pull any car — the RV was the car. Sleeping and parking in Manhattan or downtown Boston all the night, etc."
"So he decided to built a RV from scratch. (Albert Belanger was a general contractor who built houses)."
So — how did that go, building a motorhome from scratch?
"The first one, imagine with windows from a house was very dangerous but it could sleep 12 people, and was very professional in design and construction," said Vern Belanger.
He goes on, "When we traveled (after 2 weeks) a guy asked to buy it, so my father sold it. And then he started Moto-Chalet, 'Chez soi partout' - 'At Home Everywhere'. If I remember he built around 80 units. I do not know any owners but I have seen another Moto-Chalet in north of Quebec. Average price at this time between $8,000 and $12,000 — the price of a small home. The chassis is from GM 3800."
Vern also sent some photos of a 1970 model 26' – "it looked like a Winnebago but with a steel frame-chassis and no fiberglass."
Thank you to Vern Bélanger, son of Moto-Chalet's founder, Albert J. Bélanger for sharing this incredible vintage RV story. Albert J. Bélanger, a true pioneer in the Canadian RV industry.
Here is a link to our original Moto-Chalet article.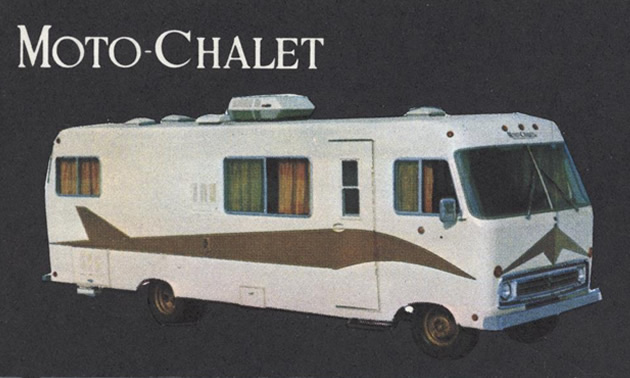 Share your classic RV restorations, or tell us your favourite story about a cool vintage unit you've encountered by filling out our Classic Vintage RV form.