Vintage RV: 1974 Clark Cortez Motorhome
Clark management had envisioned a variety of uses for the Cortez - they were made as mobile offices, classrooms, and ambulances.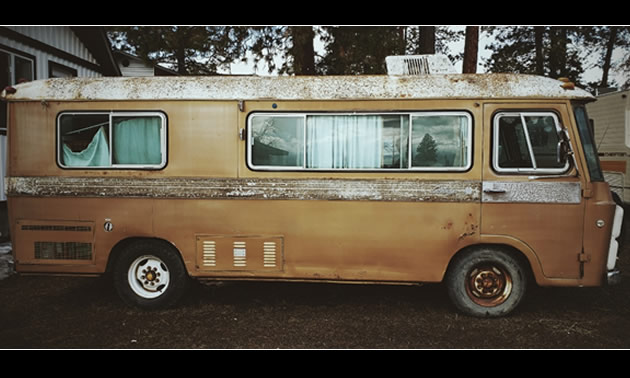 I have a friend who you might call a "tinkerer" — he likes to restore things: motorcycles, dirtbikes, go-carts and motorhomes. Lee and his wife, Lucy, have already lovingly restored and refurbished a vintage Winnebago motorhome, which they now rent out on a RV sharing rental platform.
So I shouldn't have been surprised when Lee came up to me this week and said, "I just bought a Clark Cortez. Ever heard of it?"
"No," I replied. "What's a Clark Cortez?"
"It was a motorhome made by the forklift company, Clark Forklifts," he said. "It's a 1974."
A motorhome made by a forklift company, now you've got my attention.
Wikipedia has a generous amount of information about the Cortez Motorhomes, so I'll share some of it with you.
"The Cortez Motorhome was a Class-A motor coach made in the United States between 1963 and 1979, with 3,211 units built. The Clark Forklift Company began making these small motorhomes in 1963 in Battle Creek, Michigan and are commonly referred to as Clark Cortez motorhomes. Class-A motor coaches are built as an integrated unit, including the chassis and engine, whereas Class-B and C motorhomes are built on top of an existing truck chassis.
In 1970, Clark Forklift sold the Cortez Motorhome division to Alco-Standard's Kent Industries located in Kent, OH. The motorhomes produced from 1971 are commonly referred to as Kent Cortez motorhomes. In 1975, the company was acquired by 26 owners of Cortez coaches and production continued through 1978 when the company folded. A final batch of units were completed by a bank in 1979.
Clark management had envisioned a variety of uses for the Cortez. They were made as mobile offices, classrooms, and ambulances. NASA used a Cortez to shuttle astronauts to the launch pad, which now resides in a museum at Cape Canaveral.
Cortez motorhome owners included Vincent Price, a devoted fan of this early motorhome. Cortez Motorhomes still enjoy a devoted following. Aficionados prefer its all-steel body despite rust issues, its smooth ride, and its moderate size."
So it would appear that my friend has another project to tinker on. We can't wait to see what he does with this old Clark Cortez unit. Keep us posted, Lee!
Share your classic RV restorations, or tell us your favourite story about a cool vintage unit you've encountered by filling out our Classic Vintage RV form.