Vintage RV: 1970's Coachmen Class A motorhome
Since 2008, Coachmen has existed as a division of Forest River Incorporated.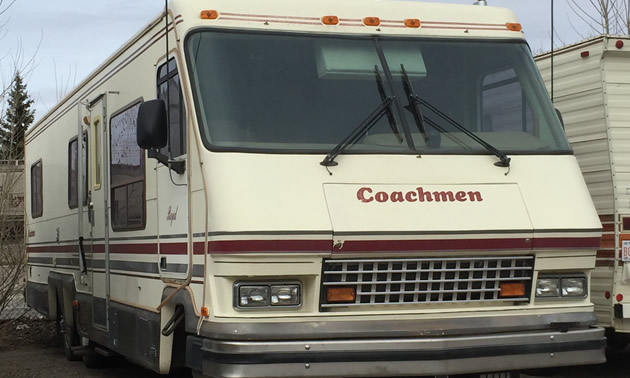 We found this vintage and still operational (1970's or possibly 1980's) Coachmen motorhome sitting in a storage yard in southern Alberta. It was clearly in great overall condition and probably ready to hit the road again this summer.
Founded in 1964, Coachmen developed a rich, diverse presence in the recreational vehicle and unit marketplace. Originally constructing travel trailers and truck campers for the vacationing customer, Coachmen would soon add motorhomes to their product array.
In recent years, the product assortment for Coachmen provides something for nearly all vacationers from simple deployable camping trailers to over 40-foot class A motorhomes. Since 2008, Coachmen has existed as a division of Forest River Incorporated.
According to one RV industry observer, "In the late 1960's and early 1970's it was evident that a rapidly expanding market for motorized RVs was dramatically increasing. It appeared it might be a market worth pursuing. The motorized RV market at that time consisted of truck chassis supplied to about 50 different coach builders, each manufacturing their version of what they thought a motorhome should be."
Coachmen Industries was one of the upstart manufacturers keen on building and selling Class A motorhomes.
The first Coachmen RV products were manufactured in 1964 in a 5,000 square foot plant in downtown Middlebury, Indiana. Coachmen's first year of production totaled 12 travel trailers, a single truck camper and 80 truck caps. Since then, over three quarters of a million Coachmen recreational vehicles have been produced and sold.
As mentioned, in December 2008, Coachmen RV became a brand of Forest River, Inc.
Share your classic RV restorations, or tell us your favourite story about a cool vintage unit you've encountered by filling out our Classic Vintage RV form.