From swamp life to a California dream: This vintage RV became a luxury haven
Julia Kastendiek and her husband restored a 1954 Spartan Manor and built a clifftop sanctuary for guests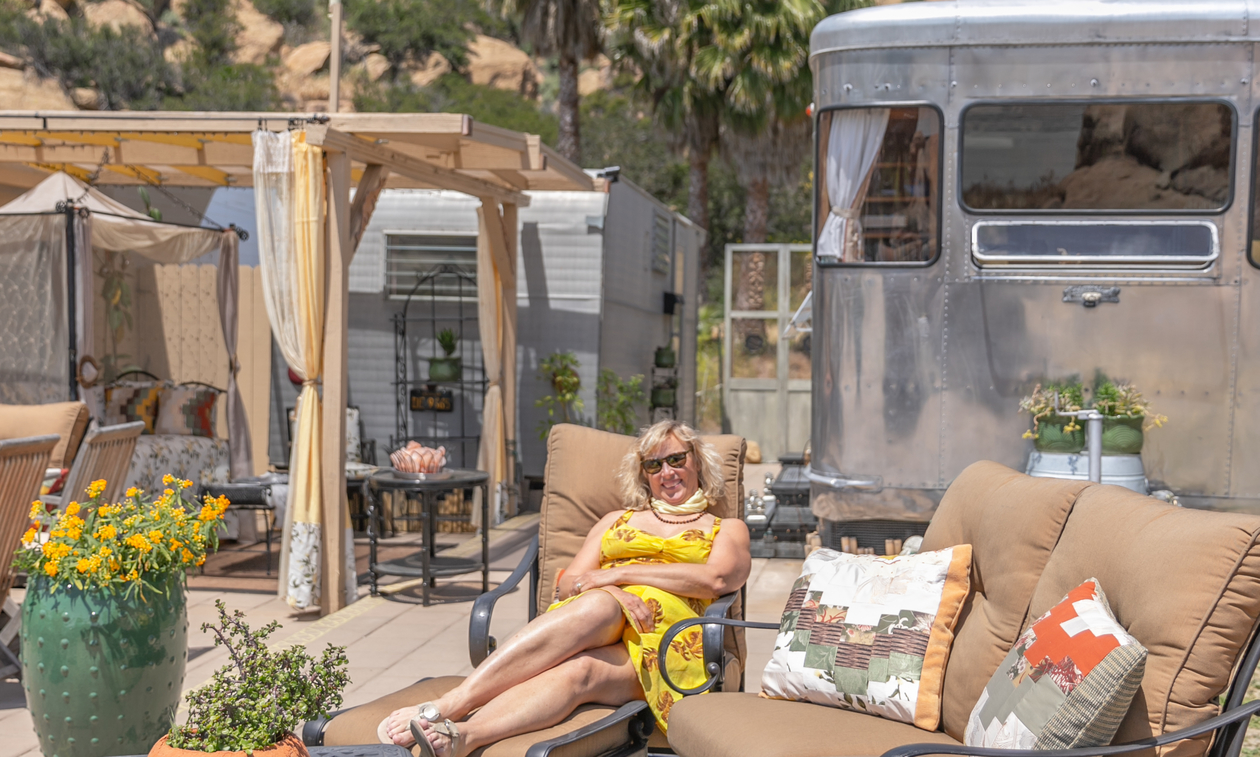 When Julia Kastendiek reached out to us regarding her restored 1954 Spartan Manor, it certainly got our attention. Julia and her husband, Michael, spent three years revamping the Spartan—which they affectionately named Gypsy. The couple lives near Los Angeles, welcoming guests to their romantic venue known as the Tiny Tiki Retro Hideaway (a guest space that includes a 1963 vintage wood interior office trailer and a 650-square-foot view patio).
The journey to restoring Gypsy began in New Orleans. Some of its life had been spent in a swamp, and it also served as a residence for two elderly gentlemen along the way. Gypsy is 24 feet, 7 inches long, has original birch cabinetry and panelling, a bathroom with shower, full galley and double-sized bed. Its restoration involved careful consideration of all furnishing and other aspects—and the results speak for themselves.
While they haven't been to an RV event lately, Kastendiek and her husband have enjoyed the Palm Springs Vintage Show and Pismo Beach Vintage trailer rally in the past. They hope to go to a few rallies near Southern California in 2022.
We wanted to learn more about this vintage RV enthusiast, and she took the time to answer our questions: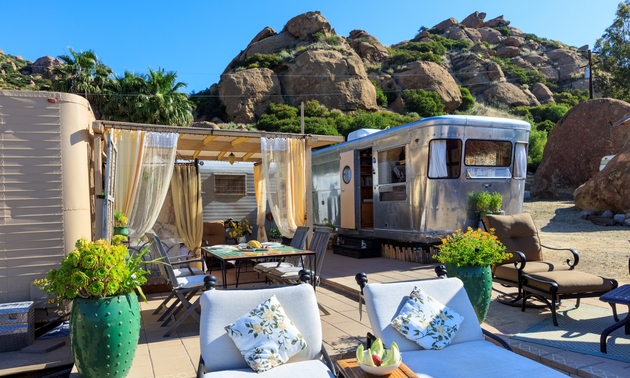 - Photo courtesy Heliphoto.net
How did you find your vintage RV?
I looked and learned about vintage trailers mostly on Craigslist. We went to the Palm Springs Modernism show and the Pismo Beach Vintage trailer rally to look at trailers. Eventually I found our Gypsy on Bakersfield, California, Craigslist and the advertisement said delivery was negotiable. It turned out Chris was a great seller. He and the 1954 Spartan Manor were in New Orleans, Louisiana. My husband Michael and Chris brought it out three months after we went to buy it.
Can you tell me a bit about the restoration process and what was involved?
Although it is rare to come upon a perfect barn find, there are those! Ours was lived in by an elderly gentleman who took some pride in ownership. There was at least one time it laid in a deep swamp. We didn't need to redo the electrical, but we did have to update the plumbing. All of the woodwork needed sanding, stain and shellac; some of it needed repair or replacement.
Most of the work we did was cosmetic, due to finances and our capabilities. We had gotten the tongue repaired at a weld shop in Louisiana before delivery to Los Angeles, but as we worked on replacing the flooring, we realized the frame was pretty bad and rusty in parts. We were lucky it made it up our steep hill in one piece after the long trip! Vintage Spartan trailers are in a class by themselves for a reason. They are very strongly built and survivors.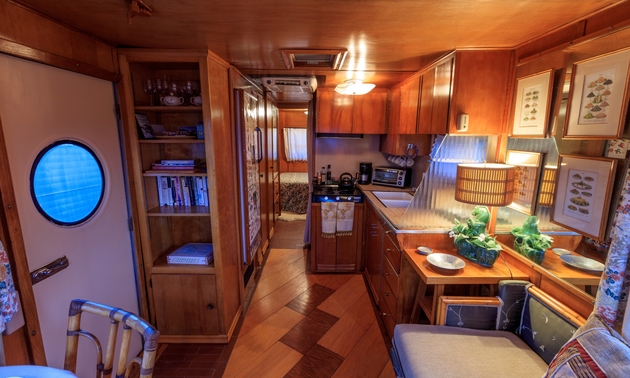 - Photo courtesy Heliphoto.net
What was the most challenging aspect of restoring the unit, and how did you overcome the challenge?
Scraping up the old flooring was a job in itself, but it turned out so beautiful with the boards and tile, it's easy to forget how hard it was. I worked on Gypsy for three years, it took all our spare cash and all my spare time! It seemed it was almost done when we realized the hot water heater had a leak, so my contractor had to replumb everything, and we put in a small tankless unit. Just trying to do at least one thing per day, however small, is what made our project finally get done!
What part of this undertaking are you most proud of?
I would say the custom bathroom remodel, the decor and interior design. I tiled the shower and designed and built the custom sink vanity and shelves. I also did all the upholstery and sewing, and I built the custom settee in the observation lounge. I made sure to pick the perfect fabrics for my vision. All the items I chose to put into the Tiny Tiki Retro Hideaway are one of a kind and chosen with love. They were all found on Ebay, Etsy, Craigslist or second hand so the look is totally unique.
What are your plans for the future?
We love to share the Hideaway with friends family and guests. We entertain often and enjoy showing off all of our view property where Gypsy is semi-permanently parked. It is near our home on one acre overlooking San Fernando valley.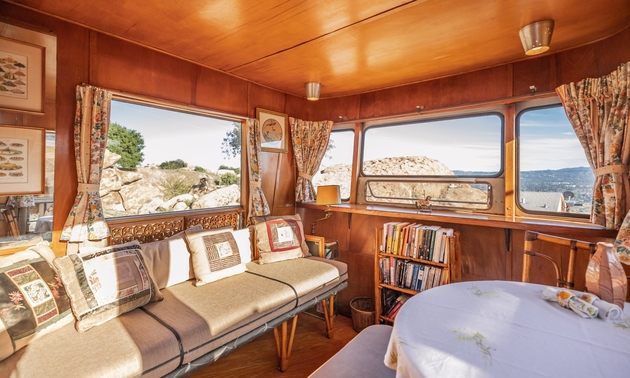 - Ethan Abitz photo
Is there anything else you would like to tell our readers?
Our trailer experience has been pretty lucky. When we found it and Chris, we didn't know very much about how hard it would be to restore. But I am stubborn as heck and we love having ownership and sharing such a special and collectible trailer. There is much help online, friendly Facebook groups of camper and vintage trailer owners and restorers. There are many choices between total restoration and total renovation, and everyone must start somewhere. The task is not completely daunting and very rewarding. With our beautiful, old, well-built trailer, I feel we are just caretakers during Gypsy's long life.