Vintage RV: 1960's Tee Pee (?) Travel Trailer by Watson Industries of Claresholm, Alberta
Here's another colourful vintage RV story about one of the many Canadian companies that dabbled in the RV business over the last number of decades.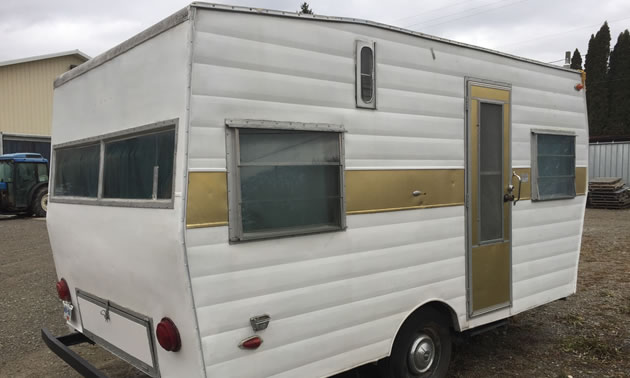 I was passing through the beautiful town of Creston recently and spied this vintage travel trailer perched on a parking lot along the highway. I swung my car around and stopped by to admire it and snapped a couple of photos.
Fortunately, a faded nameplate still existed by the entrance door. I was able to determine it was produced by a company called Watson Industries of Claresholm, Alberta. This sent me on a quest to find out more about Watson Industries. I am not sure if this model is a Tee Pee Travel Trailer or another model as there were no markings or logo decals on the unit.
Here's a post about Watson Industries trailers: "I have a 1963-1966 Tee Pee Travel Trailer, Model - Chuckwagon. I have still not found an exact date, but I'm guessing it's a '66…This trailer was made in Claresholm, Alberta. The company that manufactured it was Watson Industries, a sister company of Safeway Shelter. The company was founded in 1961 and folded in 1966-7 due to legal issues. I have come to find out through extensive research that Tee Pee trailers are extremely rare as well as Safeway trailers."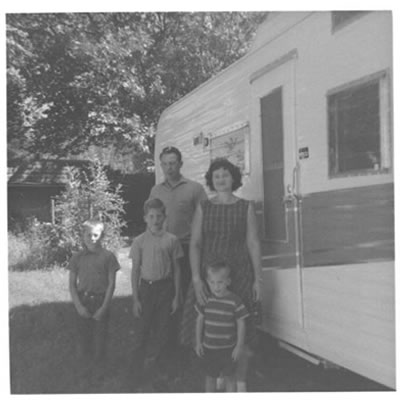 One commenter on a vintage RV site wrote: "There is not a whole lot of info on the company, Watson Industries of Claresholm, Alberta. They were the manufacturer of Tee Pee trailers which were affiliated with Duchess, another brand of RV manufacturer (same company). Both companies were divisions of Safeway Shelter Systems."
Another poster stated, "I also found out that the company was registered as early as 1961. Then they applied for expungement in late 1967. The expungement was approved and registered by late 1968. Once approved, all records of the company's existence are wiped out with no records, by law. So records show the company only existed for maybe 6 years, or less."
While another social media chat room contained this comment from someone with the handle, Claresholm Kid, "My father worked for Watson Industries building mobile homes in Nebraska in the 50's. In 1960 we moved to Claresholm, Alberta where he was production manager at the plant on the old air force airport for Watson Industries. They built the Tee Pee trailers and under the Safeway Shelters name they built Mobile homes (which became the #1 Mobile home in Canada). I have a picture of us with a Tee Pee from 1964. We moved back to the U.S. in Colorado in 1964 where my father remained in the Recreational Vehicle Industry till 2010."
According to the obituary of Norman Lock, "After the Second World War, Norman Lock went to work for the A.H. Lock Company in Lincoln and Watson Industries in Fremont, Nebraska. In 1952, Norm and Patricia Watson, daughter of Ray and Carol Watson were married. They moved to Claresholm, Alberta, Canada in 1962 for Watson Industries. Watson Industries then became Safeway Shelter Systems (Claresholm, Calgary and Montreal). Safeway Shelter Systems was the second largest mobile home industry and industrial Camp manufacturer in Canada. Norm was President and CEO for 20 years. After retiring from the mobile home industry, he moved to Penticton, British Columbia, home of the beautiful Okanagan Valley."
There was a bit of speculation that Watson Industries records were "expunged" for legal reasons, relating to safety concerns and law suits over flaws in the travel trailer design and manufacturing, but there is no way to confirm this. One comment even suggested the company got into legal problems because their trailers kept coming unhitched from the tow vehicle, again no confirmation of this.
So here's another colourful vintage RV story about one of the many Canadian companies that dabbled in the RV business over the last number of decades.
Do you have more information on Watson Industries and their line-up of travel trailers? Did you ever own one or have photos of one of the trailers? Share your classic RV restorations, or tell us your favourite story about a cool vintage unit you've encountered by filling out our Classic Vintage RV form.