Vintage RV — 1963 Aloha Travel Trailer
At its peak, the company employed several hundred workers, produced almost 20 trailers a day and held an almost 15% share of the Northwest market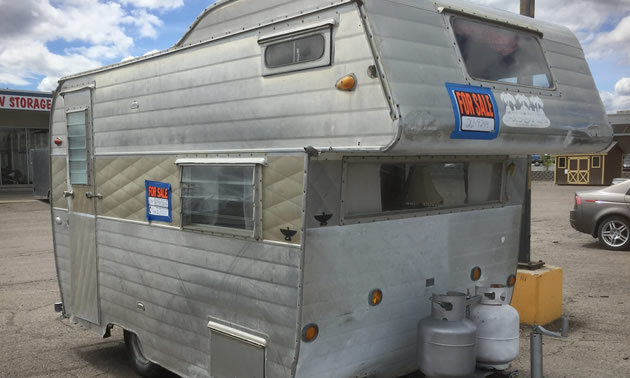 I have to admit that I had not heard of the Aloha travel trailer before recently encountering a model sitting on a consignment sales lot in Kalispell, Montana. But this little "built for the Northwest" unit definitely caught my attention. It was listed as a very rare 1963 Aloha travel trailer model, complete with dinette/bed, overhead bunk, built-in dresser, closet with toilet, kitchen with sink, stove/oven, icebox, catalytic heater and all original. Listed at $3,500.
So I needed to do some digging to discover more info on the Aloha trailers, evidently built in Beaverton, Oregon, for a manufacturing run of some sixteen years.
According to the vintage trailer website Tin Can Tourist, the Aloha trailer was a popular choice for RV'ers back in the 50's, 60's and 70's:
"Aloha manufactured economic travel trailers from 1954 to 1970. They were a small company but quite popular."
"The smallest trailer they made was 11′ and the largest they manufactured was 28′, at the height of their production in the 1960's they were making 17-19 trailers a day, had several hundred employees, owned their buildings and even had a night shift to keep up with production."
"The main areas where they sold and marketed their trailers were OR, WA, ID and BC and at one point held 13% of the regional market which was 'a remarkable amount' for a small company. Their most popular trailer was the 15′ Beaver."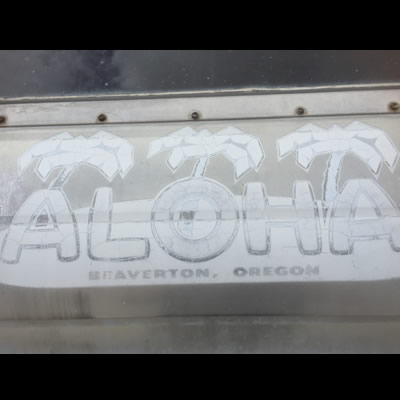 "Because they were making their trailers for the NW market they had a few unique characteristics including a larger than normal drip rail and thicker plywood around the wheel wells to help deal with moisture."
"Their biggest technological innovation however was wrapping the framing stringers around the frame so there wasn't just a box built onto a frame, this resulted in much higher stability than other travel trailers at the time."
The vintage website called Old Trailer.com documents even more info on the Aloha:
"Catering primarily to the Pacific Northwest region (OR, WA, ID and British Columbia), the Aloha Trailer company began manufacturing Aloha Travel Trailers in 1954 out of their facility in Aloha, Oregon. Glen Gordon acquired the company on July 6, 1959, relocated it to Beaverton, Oregon (near 142nd Ave), and continued to grow the company.
At its peak, Gordon's company employed several hundred workers, produced almost 20 trailers a day and held an almost 15% share of the Northwest market. But as America's demand for low-cost family travel trailers waned, Gordon sold the company to Woodtech in 1969. Woodtech continued manufacturing Aloha trailers into the 1970's.
During its history, Aloha manufactured a broad range of models and sizes, from the 11 ft. "Compact" to the 18 ft. "Deluxe", best selling 15 ft. "Beaver" and even a spacious 28 ft. model. Besides travel trailers, Aloha also manufactured custom motor homes, truck-mounted campers, and even a few "houseboats" built on barges! An interesting history tidbit: Aloha saw a spike in travel trailer sales during the 1964 Seattle World's Fair, as scarce housing for fair visitors drove enterprising Northwest locals to park Aloha trailers on their property and rent them out as temporary lodging!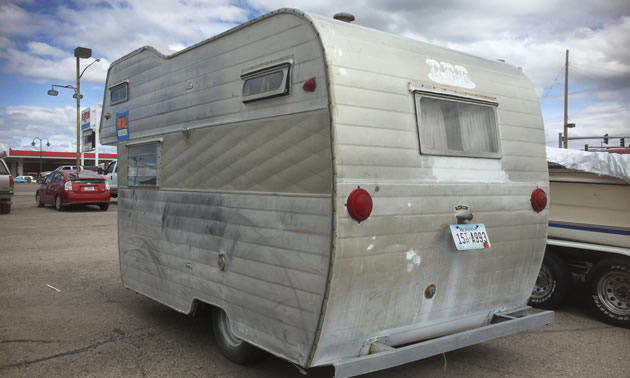 Like most smaller family travel trailers of the era, Aloha trailers followed the familiar "canned-ham" shape and consisted of a wood frame sheathed with thin sheets of ribbed aluminum panels. But to improve rigidity, Aloha trailers featured a unique wall framing design that incorporated the wood platform instead of just setting the walls on top of the platform.
Aloha's sales slogan was "Built in the Northwest... for the Northwest" so these Northwest beauties included special features for this "damp" climate, including wider drip rails and thicker plywood backing along the bottom edges of the trailer and around the wheel well openings. Aloha's sturdy designs and affordability made them a popular choice for West Coast families in the 1950's and 1960's, and today they're highly prized by trailer restorers searching for a classic "canned ham" style vintage trailer."
So there you have it - another vintage travel trailer with a colourful history and fine legacy amongst vintage trailer enthusiasts, with deep ties to the Pacific Northwest.
Share your classic RV restorations, or tell us your favourite story about a cool vintage unit you've encountered by filling out our Classic Vintage RV form.