Vintage RV: 1960's (?) Glendale Travel Trailer
The first Glendale recreational vehicle rolled off the assembly line back in 1950.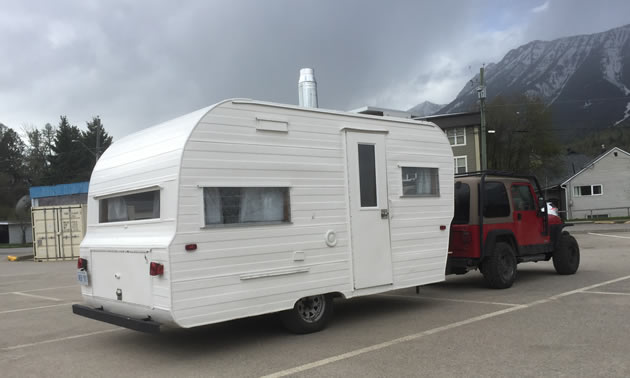 I am only guessing, but this all-white, totally refurbished vintage travel trailer looks like a Glendale model, a conclusion I came to because I found it trailered up in downtown Fernie, B.C., with an Ontario license plate on it — Ontario being home of Glendale Trailers back in the 1960's and '70's. Like so many travel trailer manufacturers of yesterday, it would appear that Glendale had a colourful history and legacy as well.
Research posted on the Tin Can Tourist website states, "Glendale Mobile Homes Ltd, now Glendale Recreational Vehicles of Strathroy, Ontario, made its first "RV" in 1950. They now claim to be the largest RV manufacturer in Canada, and that more Glendales are sold in Canada than any other RV. They estimate that 120,000 Glendale RVs are currently in use in North America. Unfortunately Glendale has lost touch with its historic past through the tragedy of a large scale factory fire in the 70's, losing all records, and thus is unable to assist with inquiries about vintage models."
From the same website this is an interview by Lou Hammill with the retired original owner of Glendale, "Glendale was founded in 1950 by Reginald Lever Thorn, a trailer builder from England who arrived in Canada around 1948. Reg with his wife Joan and their first child (son, Jeremy) and friend Vic Gray traveled to various areas of Canada including BC and the East Coast. After much deliberation they settled for an area in Southwestern Ontario.
The first plant was located on the Glendale Curve in London, Ont. Today the area would be know as Wharncliffe Road and Southdale. This first plant was a barn, which burnt down in 1956. From here Reg relocated Glendale to its present day location of 145 Queen St. in Strathroy. Reg, with the help of many dedicated employees like Wally Callaghan, grew Glendale to be a national manufacturer of both RV's and mobile homes right across Canada."
Here are some of Glendale's timeline highlights from the same article:
1959 — Glendale Mobile Homes Ltd. opened a division in Wetaskiwin, Alberta producing both homes and travel trailers.
1961 — Glendale Atlantic Ltd. was opened in Sussex, New Brunswick by John De Winter and Reg Thorn.
1961 — Glendale acquires the McGuiness Homes name and begins building the Golden Falcon line of trailers.
1965 — Glendale Quebec Limited opened a plant in St. Joseph De Beauce producing homes and travel trailers.
1966 — Strathroy plant destroyed by fire and rebuilt to what is today the current facility @ 145 Queen St.
1968 — Glendale expanded once again out west with a plant in Morris, Manitoba and started its Terrapin Commercial Building Plant across the road from the Strathroy Plant on Queen St.
1969 — Glendale acquires property in Australia and began Glendale Homes Pty. Ltd. which is still in operation today but not affiliated with Glendale in Canada.
1971 — Glendale acquires Pre-Built Ltd. of Lethbridge, Alberta and with this the Scamper line of recreational vehicles.
1973 — Glendale Mobile Homes Ltd. becomes The Glendale Corporation with manufacturing locations across Canada for both manufactured housing and recreational vehicles of various sizes and shapes.
1975 — Reg Thorn sells Glendale to Morgan Firestone of Oakville Ontario.
Between 1975 and 1978 Morgan re-engineers Glendale into a streamlined company focusing only on the RV business and only from the Strathroy Complex. All other business units were sold off and or closed due to discontinuing of less profitable operations.
This account was written by Lou Hammill from an interview with Reg Thorn at his home in Strathroy, Ontario in 1986 for a project presented at Sheridan College, Brampton 1987.
Can you help us ID this travel trailer? Is it a Glendale model? Do you have a vintage travel trailer or motorhome? Share your classic RV restorations, or tell us your favourite story about a cool vintage unit you've encountered by filling out our Classic Vintage RV form.
Editor's Note: According to an eagle-eyed reader, Ken Vanderburg, of Whitecourt, Alberta this trailer is actually an Aristocrat. See this link for more info on both the Glendale and Aristocrat.