Vintage RV: 1950's Shasta Travel Trailer
The iconic Shasta travel trailer has been a common sight on roads across North America since the 1950s.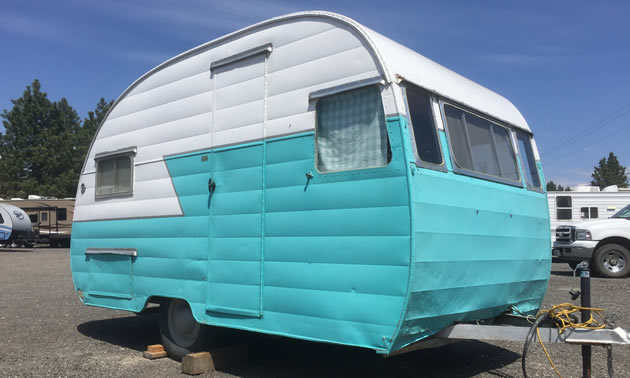 Hey, it's the May long weekend. The official "first weekend" of RVing and camping. It is the time when RV lots and service departments get their first rush of the season. When RVers shake out the cobwebs and troubleshoot their units for the summer season. (And everyone wants their unit serviced NOW!)
So I was tickled when I visited a local RV lot to see a classic (1950's?) Shasta teardrop-style travel trailer patiently waiting for its "spring shakedown and tune-up."
Of course, Shasta is one of those classic iconic names in the RV industry – and the company still exists as a division of Forest River Industries. I assume the trailers were named after the famous peak in California, Mount Shasta.
Here's a little history:
"In 1941, when Californian Robert Gray built the first Shasta "house trailer" to be used as mobile military housing, he had no idea his homes on wheels would play a major role in establishing a billion-dollar industry.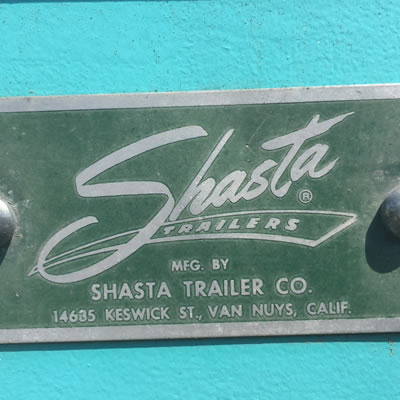 Or that the little trailers would spark wanderlust in Americans that would carry them across the miles and into the next century. Shasta was, and remains, an important player in the ultimate American Dream; the freedom and desire to roam, explore and enjoy well-earned leisure time with the people we love.
In the 1950s and 60s, the toaster-on-wheels look of the original Shasta trailer was the most recognizable shape on the road. There were other RV brands, but only Shasta was distinguished by those wings that signified flight and freedom. Through the 1960s and 70s, RVs became bigger and better, America's burgeoning highway system evolved into interstates, and the wanderlust grew ever stronger. In the 80s and 90s, RVs continued to evolve into safer, more sophisticated homes away from home, with more features and greater comfort than ever."
As the nameplate states this model was built in Van Nuys, California by the Shasta Trailer Co. Other than a spot of rust on one corner this attractive 1950's Shasta trailer sits ready to hit the road for another season—in what must be well over 50 years of camping for this iconic teardrop-style trailer.
Long live the Shasta!
Share your classic RV restorations, or tell us your favourite story about a cool vintage unit you've encountered by filling out our Classic Vintage RV form.