Vintage RV: This 1978 "free" Pace Arrow motorhome comes with a colourful story
It's no surprise this vintage beauty was snapped up in a number of hours.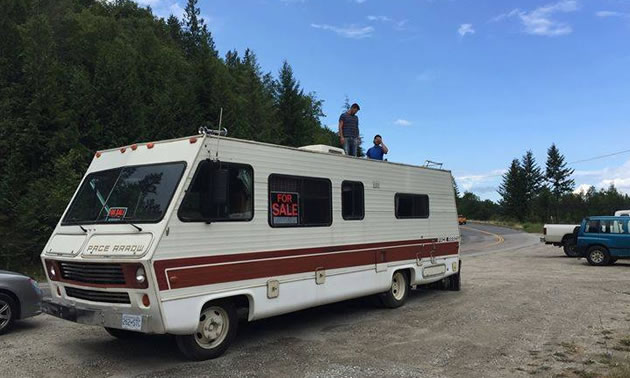 I always like a Vintage RV feature that has a story to it and this old unit definitely has a great story attached to it. I spied this unit on a buy and sell site out of Nelson, B.C.
Here is the story of the free Motorhome:
"1978 Pace Arrow Motorhome. No leaks. In great vintage condition. All interior systems work. It's a long story, but we were trying to be a good neighbour and offer her to a family in need on a payment plan. Long story short, they took off without payment after living in her for a month and now she won't run."
The story continues, "I can't make promises, but I'm fairly certain someone handy could have her back to road-worthy in a matter of hours. Or if you'd like to tow as-is, she's all yours. At this point, we just want to find her a good home before the snow flies. She's presently parked in Salmo. We'd love to sell to recoup some of what we had hoped to get, but honestly, at this point, first person who wants to sign transfer papers can take her. PM me for more information."
Sure enough someone snapped up the free motorhome in a matter of hours.
Talking about stories, what's the story behind the Pace Arrow motorhome? Nada Guides says, "Once a popular line-up of Class A motorhomes, the Pace-Arrow name appeared in the 1960s. Pace-Arrow was acquired by Fleetwood during the 1970s and continued for years as a premier choice for family cross-country adventure for diesel-powered motorhomes. Ranging up to 38 feet in length, the Pace-Arrow brand of motorhomes were constructed until the 2010 model year."
As one vintage RV enthusiast wrote about the Pace Arrow motorhomes, "For several years Pace Arrow was considered the "Cadillac" of motorhomes. This was a marketing decision. Winnebago held so much of the market in those days, Fleetwood (after buying the Pace Arrow rights) felt they needed to distinguish themselves from the Winnebago motor homes. So the Pace Arrow got luxury upgrades whenever possible, to attract the high-end buyers away from Winnebago."
He continued, "Fleetwood discontinued manufacturing the Pace Arrow several years ago. The Pace Arrow always had a gasoline engine, and the diesel-pushers simply took over the high-end market. Fleetwood also manufacturers the Southwind, which effectively grabs the middle-range of the market, so there's absolutely no place for the Pace Arrow anymore."
Got more stories or photos of vintage Pace Arrow motorhomes or another vintage RV? Share your classic RV restorations, or tell us your favourite story about a cool vintage unit you've encountered by filling out our Classic Vintage RV form.