Vintage RV—1970's Little Chief Mini-Motorhome by Penticton's Trav-L-Mate Industries
The Little Chief was a made-in-Canada version of the popular Toyota mini-camper conversion.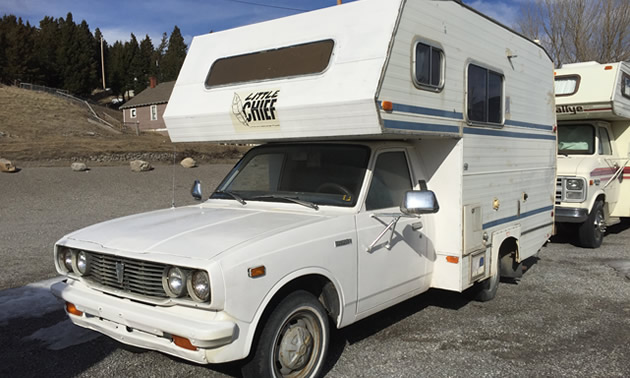 Now here's an unique little vintage RV. These Little Chief Mini-motorhomes were manufactured by a company called Trav-L-Mate Industries in Penticton, British Columbia, back in the late 1970's and 1980's. It had a single axle, 17' model with rear bath and had a 20R 4 cylinder manual transmission.
The Little Chief was a made-in-Canada version of the popular Toyota mini-camper conversion which was springing up in campgrounds in the USA.
As the website Tundra HQ's reports, "In the 1970's and 80's the RV boom hit North America with full force, and with it came motorhomes and camping trailers of many different shapes, configurations and sizes. Most are familiar with the Class A Winnebagos as well as the more modest pickup-truck mounted camper attachments, but few remember that companies like Toyota also got into the camping game in its own unique fashion. Unlike other major RV players who battled over maximum trailer length and interior square footage, Toyota decided to keep things small and compact. In doing so, they almost cornered the market on affordable and practical camping."
The Toyota Mini-Motorhome, like the Trav-L-Mates, first hit American roads in the mid-1970's, and was based on a version of the Toyota Hilux compact pickup truck.
In 1980, James Epp, founder of Fraserway RV Centre, along with his father Erdman flew to Penticton early one morning on a charter flight—they had heard the day before that Trav-L-Mate Industries had gone bankrupt and was to be sold by a receiver the next day.
Twenty-four hours later the Epp's purchased the business with land and building. Later James sold his share in Trav-L-Mate as part of the agreement to purchase Fraserway Camper Mfg. Ltd.
Despite a rather colourful legacy there are still a number of Little Chief's on the road, even today.
Share your classic RV restorations, or tell us your favourite story about a cool vintage unit you've encountered by filling out our Classic Vintage RV form.