I Spy'd a Vintage RV – 1970's GMC "Halo" motorhome
Over 12,921 GMC motorhomes were produced in the years spanning 1973 to 1978.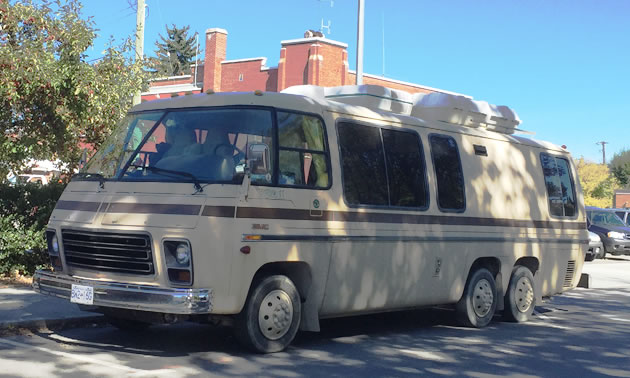 This week's vintage motorhome takes me back to the leafy, shady days of summer. As I strolled down the street of my hometown I encountered a brown (somewhat mud-splattered) GMC Motorhome.
These motorhome units harken back to the early to mid-1970's when the big three automakers were making a concerted effort to get into the motorhome market. The result, as we've mentioned in this column before, was the creation of the space-age looking GMC Motorhome.
Wikipedia tells us a little of the history of the GMC motorhome, "The GMC Motorhome was produced by the GM Truck & Coach Division for the 1973 through 1978 model years in Pontiac, Michigan, USA. It was the only complete motorhome built by a major auto/truck manufacturer, producing what GMC hoped would be their "halo" vehicle. GMC built the bodies and in most cases the interiors in-house, and designed the chassis and drivetrain to create a motorhome enclosure that could be adapted to a range of purposes. Empty (Fiberglas) shells were supplied to other RV manufacturers for up-fitting the interiors and also to specialty manufacturers for a range of custom purposes ranging from mail delivery and mobile training facilities to people movers and ambulances. It was built in 23 and 26 ft (7.0 and 7.9 m) lengths."
Over 12,921 GMC motorhomes were produced in the years spanning 1973 to 1978. Estimates suggest that at least 8,000 to 9,000 of the original production are still in running condition including this one I saw parked at the curb in my hometown.
Do you own a GMC Motorhome, or have you owned one in the past? Tell us your vintage motorhome story.
Have you spy'd a vintage motorhome, trailer or camper? Snap a picture and send some details to us at RV West—we may feature it in this column, "I Spy'd a Vintage RV." Share your classic RV restorations, or tell us your favourite story about a cool vintage unit you've encountered by filling out our Classic Vintage RV form.