The "Best of" Vintage RV: 2018
So far in 2018, we have had lots of positive feedback on our continuing series showcasing vintage classic motorhomes and travel trailers.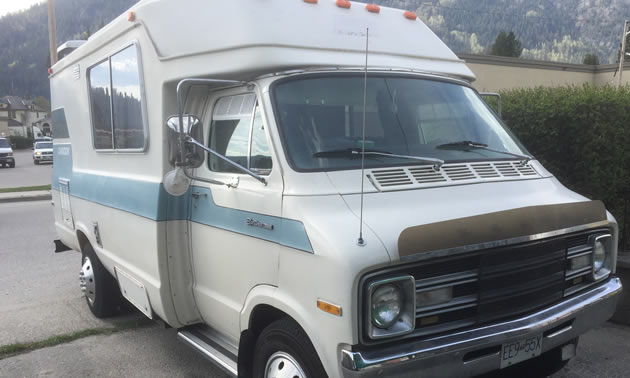 So far in 2018 we have had lots of positive feedback on our continuing series showcasing vintage and classic motorhomes and travel trailers. We call the popular series Vintage RV. We are confident this reflects both the nostalgia and passion campers/RVers continue to feel about these vintage units from a bygone era.
We are pleased to re-post the "most liked" of the vintage motorhomes and trailers we have posted during the first 6 months of 2018 – based on the number of Facebook likes each posting received.
With 153 Facebook likes, this article takes the number four spot: Vintage RV — 1970's Chinook Sportsman Class C (Class B+).
Connie of Nelson, B.C. is the proud owner of a Dodge Chinook Sportsman Class C (Class B+) motorhome. I recently met her as she was doing some spring cleaning around her yard in the beautiful Queen City of the Kootenays. And tucked in Connie's carport was a vintage Chinook Sportsman Class C (Class B+) motorhome.
Connie has owned the vintage Chinook Sportsman for several years now, having purchased it in the Okanagan. She has toured throughout B.C. with the unit and is hoping to travel to Haida Gwaii this summer but if that doesn't work out she says she'll be happy touring closer to home in the Kootenays.
What's the story of the Chinook Sportsman Class C (Class B+) motorhome?
According to a posting on the Tin Can Tourists vintage RV enthusiast site, "Chinook RV, a division of Trail Wagons, Inc. was a family-owned and operated manufacturer of relatively short-length, high-quality Class C (Class B+) recreational vehicles, once considered "The Sports Car of Motorhomes" until the company's demise in 2005.
In January 2013, the intellectual property rights of the Chinook brand, including the nameplate, designs, templates, manufacturing jigs, molds and support equipment were acquired by Phil Rizzio, owner of Wagon Trail RV in Las Vegas, Nevada and Creston RV in Kalispell, Montana. They specialized in the Class B market including buying, selling and trading Class A, B, C, fifth-wheel towables and diesel pusher RVs.
First produced in 1938 by Sy and Rose Mair in Orange County, California, Chinook was among the oldest U.S. brand names in the RV industry. Over the next thirty years, the family-run business of Mair & Son, Inc. would relocate to Union Gap, Washington where they would build small travel trailers, pickup campers and chassis mounts that went on a one-ton cab chassis.
It was during the early 1950s and 60s that the first mass-produced motorhomes started appearing on the road, with some of the early models looking like a cross between a slide-in camper and a motorhome. These Class C motorhomes were actually constructed on a truck chassis. Fabricators ordered trucks without the traditional bed and added their own creation, a practice that is essentially still done today."
They added, "In 1971, Gary Lukehart designed what would later turn into an iconic RV legend: the Chinook 18 Plus motorhome, forerunner to the present-day Chinook Concourse. Initially built on a Dodge Maxi-Van chassis, it would eventually evolve and be refined over the next three decades on the Chevy and Ford van "cutaway" chassis, providing the public with a recreational vehicle that carried – at the time – the only lifetime guarantee in the RV industry for the original owner."
As Connie from Nelson can attest to….years after the company's demise, the Chinook RV still remains a recognizable icon on the road today. Numerous variants and model years are still in service and meticulously maintained by their dedicated owners – some of whom have owned more than one over the course of years when they were built.
So if you see Connie from Nelson driving her vintage 1970's Dodge Chinook RV this summer, give her a friendly wave hello from RVwest.
For the whole Chinook story click here: https://tincantourists.com/2016/03/09/brand-of-the-week-chinook/