Best of Vintage RV 2019: #3 - Could vintage RVs help solve the homeless crisis?
Refurbishing vintage RVs may be a novel approach to help solve the homelessness problem in cities and towns across Canada.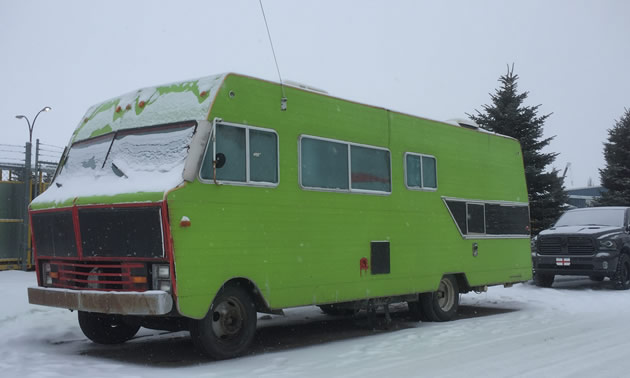 Over the next 10 weeks we will feature the Top 10 Vintage RV articles we have ran on the RVwest website over the last year. We have ranked them according to the number of "likes" each posting received on the RVwest Facebook page.
So enjoy our list of the Top 10 most popular Vintage RV postings from the last 12 months — in our annual feature called 2019 Best of Old Vintage RV.
Could vintage RV's help solve the homelessness crisis? It's an interesting question, and one we explore this week with our Number 3 top article which got 209 Facebook likes.
It wasn't long ago that I was driving down a side street on a rather wintery day, in a mid-sized western Canadian city when I encountered a colourful vintage RV parked at the curb.
I am only guessing, but it appeared to me that this unit was the "permanent" home of an individual(s) who may have been caught in the housing affordability crunch that is currently plaguing the western world. Truly a "home" on wheels.
So, it got me thinking — could cities and counties utilize vintage (a.k.a. old) RVs to help solve their homelessness problem? It would require some innovative thinking and probably more than a few bylaw changes. However, it could give individuals who were previously considered "homeless" a viable option to live in, getting them off the street and helping them gain the dignity of having their own place to call home.
A quick internet search reveals that while this might be a new idea for Western Canada, communities like Austin, Texas have already developed such a solution, as this report states:
"In October, Community First! broke ground on a 24-acre expansion, which will add 110 RV sites and 200 micro-homes, alongside a permanent 20,000-square-foot health facility. That would bring the village's total population to 480 people—roughly 40 percent of the estimated 1,200 chronically homeless people living in Austin, according to the Ending Community Homelessness Coalition—and make it considerably larger than any other tiny-home community for the homeless."
It goes on to state, "Community First! Village, is a 27-acre master planned community just outside Austin, Texas, where more than 200 people who were once chronically homeless live in tiny homes and RVs. Everyone who lives at Community First! pays rent, ranging from $225 to $430 per month; many residents are employed on-site."
Read the entire article here.
Drive by any RV storage lot and you will find dozens and sometimes hundreds of RV trailers and motorhomes sitting empty. Some of these units are older models that may been long forgotten about by their owners.
Could the RV industry or the RV storage industry play a role in identifying some of the units which could be donated to an initiative set up to help house the homeless population?
To some extent this is already happening, with individuals parking an old trailer or motorhome on side streets and making it into their home, like the one mentioned above. However, an organized approach to this issue could potentially provide a solution in big cities and small — by providing an organized and structured approach to provide a solution for a growing homelessness problem by utilizing vintage RVs.
What do you think? Could vintage RVs play a role in helping with the homeless problem in your area? Or do you know of an example of this already happening somewhere in Western Canada?
Share your classic RV restorations, or tell us your favourite story about a cool vintage unit you've encountered by filling out our Classic Vintage RV form.