A sense of place: paddling the Shuswap for chinook salmon
"Ultimately, I want people to connect with themselves," says Charles Ruechel, adventurer and guide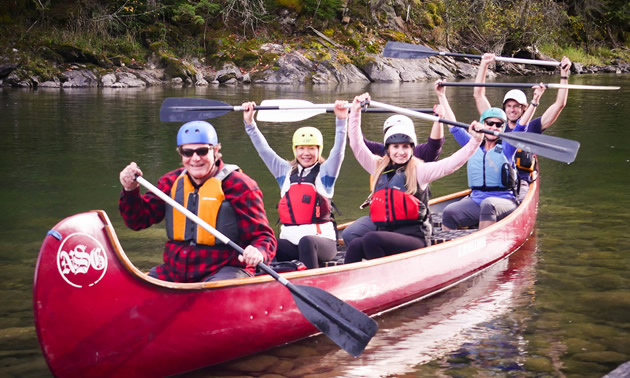 On the bank of the Shuswap River, Charles Ruechel reached down to release chinook salmon fry from a bucket into the cool river water. That was 28 years ago. His elementary school class raised salmon fry in the classroom from trays of fertilized eggs. Ruechel is now the owner-operator of Elements Adventure Company. One of the adventures he guides at Elements is the voyageur canoe tour where you will experience the camaraderie of team paddling, enjoy the river up close, and if you time it right watch the returning salmon run.
He still helps in the annual salmon release, volunteering at the Kingfisher Interpretive Centre, near Vernon, British Columbia. Ruechel leads Grade 11 students participating in the Earthquest Outdoor School program, and has done so for the last five years. A couple of years ago he and his students were camped on the edge of the Shuswap for four days of outdoor education, learning about aquatic and riparian ecosystems and how to paddle. They were doing First Nations studies in basket weaving and bow-drill fire-making. And helping the salmon. The students were congratulating themselves on releasing somewhere in the neighbourhood of 10,000 salmon fry that were now just figuring out what to do in their new river environment when a boat sped up the river, wake washing tiny salmon on to the rocks. The panic that followed getting the salmon back into the water sparked thoughtful conversation amongst the students.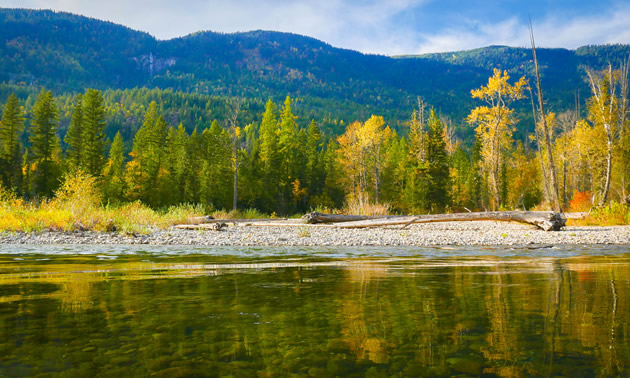 "I feel an overwhelming sense of place here," said Ruechel. Ruechel guides and coaches from the back of the canoe. He will tell you how the salmon numbers suffered in the 1970's and 80's, but now the numbers are increasing. He will tell you the cottonwood trees along the riverbank provide much needed shade and contribute to keeping the water cool for the salmon. He will tell you the riverbed gravel is nearly perfect for salmon eggs to hatch, and there is adequate food—aquatic plants, invertebrates, fish. As you and your fellow paddlers dip and stroke, dip and stroke in unison and your 22-foot canoe glides along with the current, he'll tell you salmon do better when undisturbed. The canoe is perfect.
From the canoe, you might see salmon stacked up in the clear water, idling in a back eddy readying for a push upstream. You might find eagles resting in the cottonwood trees. If you step out of the canoe as Ruechel paddles in shallow water over a sand bar and walk along the shore you might find black bear scat as big as Coke cans—like we did.
You will never look at a river the same.