Top things to see and do in Tumbler Ridge
Tumbler Ridge is a year-round recreational dream, but those interested in the history of humans or a monumental dinosaur discovery will be thrilled as well.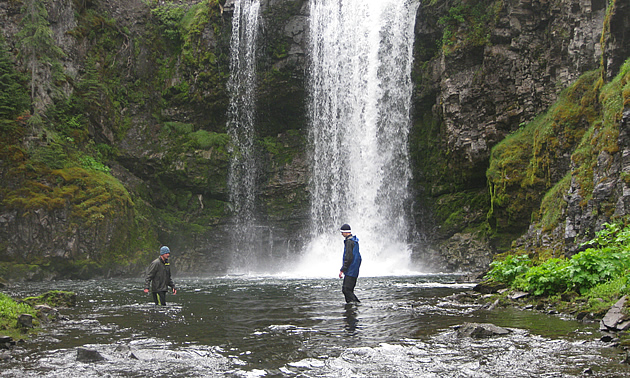 Tumbler Ridge, located in the rolling foothills of the Rocky Mountains, is an ideal destination for visitors during every season. British Columbia's newest and youngest community has a lot to offer everyone. Here are some of the things you can enjoy there.
1) Waterfall tours
Considered to be the waterfall capital of the North, this area offers dozens of dramatic waterfalls to explore—including the thunderous Kinuseo Falls, which is actually larger than Niagara Falls. Many outstanding falls are easily accessible by hiking a few kilometres or longer, and all are worth the effort.
2) Dinosaur Discovery Gallery
This is the place to learn about dinosaur tracks and see a full-scale recreation of a 100-million-year-old dinosaur track environment. The interactive theatre, fossil displays, photos and educational programs are extremely interesting to visitors of all ages.
3) Tour the track sites
Take a guided or self-guided tour of the Flatbed and Cabin Pool track sites—all within the limits of Tumbler Ridge and easily accessible for all levels of fitness.
"Exploring the original track sites is now easily accessible, thanks to the local Wolverine Nordic & Mountain Society, a local hiking group, who built a trail to the tracks," said Lisa Buckley, curator and collections manager of the Dinosaur Discovery Gallery.
4) Hiking
Whether you are interested in a short hike to view the Bullmoose Marshes or following the designated trails leading to awe-inspiring waterfalls, there are trails to suit you. Take a short stroll in search of outstanding views or stretch yourself over a more difficult route such as Bergeron Cliffs. Keep your eyes peeled for more than 200 species of birds in this region.
5) Kayaking or canoeing
Water surrounds Tumbler Ridge, as the Murray and Wolverine rivers converge here to provide canoeists and kayakers with an opportunity for outstanding paddling. The unspoiled lakes and rivers are prime locations. If you are looking for a challenge, there are plenty of opportunities for white-knuckle whitewater kayaking.
6) Winter sports
There are locations for several outdoor sports, a favourite being ice climbing. There are easy places to climb, and also more difficult routes in the Canadian Rockies, which are noted to be the centre for ice climbing. Cross-country skiing is very popular in this region and groomed Nordic trails are easily accessible.