A checklist for going south
This seasoned RVer shares her list of must-haves to use when travelling south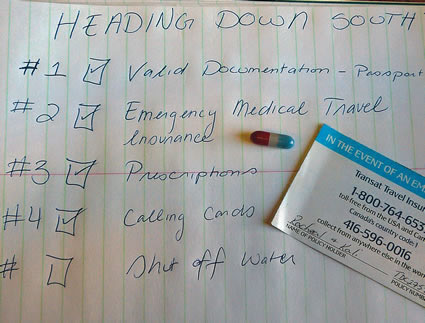 You've made the big decision. You are going to follow the migrating birds and head south to escape the long, cold winter of Canada.
Here is a checklist for those things that often get overlooked.
Valid documentation: You must have valid identification to gain entrance into the United States. We travel with copies of our property tax assessment as well as our passports.
Emergency medical travel insurance: If you are under 55 with no pre-existing medical condition, insurance can be very reasonable. The older you get and the more health issues you encounter, the more pricey the insurance can be. Still, it's worth it—one trip to emergency cost us more than $500 and we could only claim back $50 of that amount.
Medical prescriptions: If you are on any prescribed medicine, be sure to take enough with you to cover your time away. We are able to get our prescriptions filled for up to 200 days (in Alberta) but also take copies of any prescriptions with you, just in case. (Wal-Mart pharmacies will generally call another Wal-Mart to confirm prescriptions if necessary or you can get them filled in Mexico).
Communication: If you plan to be talking on your cellphone, check with your service provider to make sure you have the right coverage. We put our Canadian phone on vacation and pick up a temporary phone and phone cards in the States.
Get your home ready: Wherever possible turn off the water; unplug appliances and electronics; cancel newspapers, telephone, cable, Internet and any scheduled appointments and deliveries; and set your thermostat at around 15 C (59 F).
Arrange for someone to check your home: Some insurance companies will not cover your home if someone is not checking it regularly.