The Dream is the Real Deal at California's Motorcoach Country Club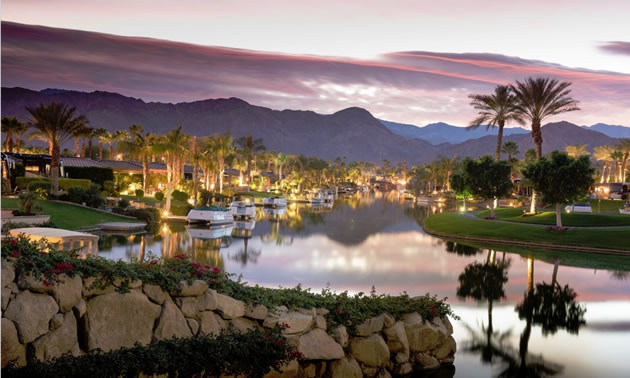 Imagine yourself reclining on a patio chair in the shade of a palm tree as the temperature dances above 25 degrees C (that's 77 degrees F). You shoot the breeze with your new friends while the smell of burgers fresh off the barbecue fills the air. You prepare the essentials on the granite countertop beside the grill while tossing back your first beer of the afternoon. You look forward to your second golf game of the day and fantasize about the steak and lobster you'll eat that night at a five-star restaurant. Who knew life could be this good, especially in February? You'll have to keep using your imagination if you stay in Canada, but that dream is the real deal if you're at the Motorcoach Country Club in Indio, California.
Kerry Johnston is the exclusive real estate broker for the Motorcoach Country Club. He has 32 years of experience and has sold more than 1,600 lots so he knows what's important to his clients. "This resort is the only one of its kind in the world," Johnston said. "There's never been anything built that's even in the same ballpark as this resort. We have a five-star restaurant, a nine-hole par three golf course, two miles of waterway, 143 boat docks." Motorcoach's amenities don't stop there. "We provide 200-amp service and natural gas, which is unheard of in this industry," Johnston said. "We have natural gas at every lot. People are able to put in swimming pools, hot tubs, casitas and shade structures with all the goodies."
With all the interaction Johnston has had with his clients over the years, he knows what they want and how to deliver. "They don't want a home or a condo or to be in a resort where they never meet anybody—they want outdoor living," Johnston said. "By putting up these shade structures, they have that ability. On a windy day or cold night, they don't get forced back into the motorhome. They've got flat-screen TVs in them, they've got granite counters, bars, refrigerators, plus a little 9 x 13 casita which has a bathroom and a shower in it. If you have guests over for cocktails, they don't have to go into your motorhome to use the facilities."
Lots average 40 feet by 115 feet and come in three distinct types. "There's privacy—when you back in you have the surrounding walls so it's like having a backyard," said Johnston. "For the golf course and water lots you drive into them and face the views."
The surrounding area is appealing too. "We're in the desert. It's the best weather in the world in the wintertime, no bugs, no humidity, very little rain," he said.
Besides casinos and various sorts of entertainment in the neighboring areas, you don't have to go far to reach major metro centres. Motorcoach is situated two hours from San Diego and Los Angeles.
There's no excuse to be bored at Motorcoach. "We're in a golf and tennis mecca," said Johnston. "Five miles from the resort we have the No.1 tennis facility in the world. All the top players come to play in it. There's 115 golf courses in the desert within a 15-mile radius. I'm a golf pro so every February I have a Pro-am for my members. I bring in eight other pros to play with my members. That's kind of our event of the year."
When you get hungry, it's time to not just go out, but up. "We have a five-star restaurant," said Johnston. "There's no RV facility in America that has a full-fledged restaurant like we do. It's called Top of the Falls. There's a big waterfall as you enter the resort and that's how we ended up naming it Top of the Falls. It looks into the Santa Rosa Mountains. It's open for lunch and dinner and has a bar."
Who will your neighbours be when you park your RV at Motorcoach? "This is a much younger crowd—45 years and up," Johnston said. "Overall it's probably the youngest RV facility in America."
Whether you're young or simply want to feel young, Motorcoach is the activity hub you're looking for. "We have bocce ball every Monday," said Johnston. "You can play cards, billiards—there are boat races with the electric boats where they line up and have to paddle using brooms. They do margarita crawls with the boats. There's always something going on."
Motorcoach Country Club: If your RV had a hat, this is where it would hang it.