Know before you tow—regulations for towing your RV in Canada and the U.S.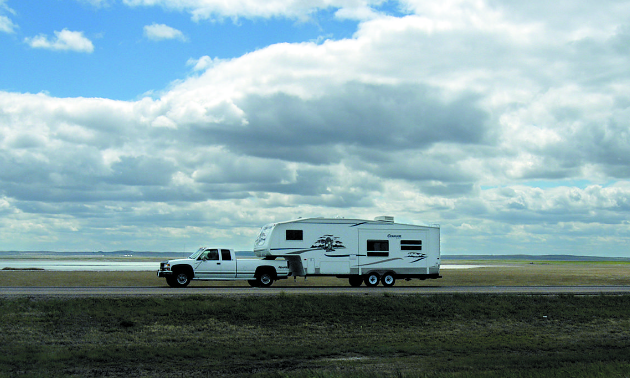 As a stationary full-time RVer, my trips to RV shows have always concentrated on the RVs themselves. I gave little thought to gross vehicle weights, load capacities, hitch/pin assemblies or truck specifications. All I wanted was the best mix of bells, whistles and amenities for full-time living.
For RVers traveling with a towable trailer or fifth wheel, however, safety at highway speeds and during back-road driving must come before all other considerations.
That seems straightforward enough, doesn't it? But for the uninitiated driver who simply wants to take a new RV from, say, British Columbia to California, even a few cursory enquiries about the fundamentals of ensuring a safe ride leads him or her into a quagmire of overlapping regulations and government jurisdictions.
So in a lay-person's attempt to "cut to the chase," it seems to come down to four main items: Canadian and U.S. regulations, towing weight of the RV, the hitch/pin and the tow vehicle itself. While those items cannot be covered in detail here, readers can begin their own research at the links provided and, before setting out, are urged to seek out the appropriate professionals and regulatory bodies for more advice.
Canadian regulations
With no plan to research the laws for provinces east of Saskatchewan, I had hoped to find a cross-Canada, co-ordinated, federal-provincial set of rules and terminology governing all aspects of recreational vehicle use, including towing. I was disappointed.
Nevertheless, I found the following useful, if sometimes overlapping, information for the three western provinces:
British Columbia
B.C. appears to have the most comprehensive (or complex?) regulations that are administered by a mix of the Insurance Corporation of BC (ICBC) and the Ministry of Transportation & Infrastructure (TranBC).
Specifically, that section includes a two-page section entitled 7 Things You Need to Know Right Now about Towing a Recreational Trailer in BC. Similarly, ICBC has published an online advisory Are You Planning to Tow a Trailer Weighing More Than 4,600 kg? That brochure covers items such as drivers' licensing requirements, pre-trip inspection, driving an RV combination, safety advice and more.
Alberta
In response to my approach to Transportation Alberta, spokesman Howard Greenway provided this link and explained that, while Alberta hasn't published regulations specific to RVs, many sections of their Vehicle Equipment Regulation (VER) will apply.
Greenway said more specific information can be found in Part 6, Div. 2, Sections 96-102 of VER here.
Saskatchewan
With help from Andy Goodson, a travel counsellor with Tourism Saskatchewan, my hunt for information in that province paid off in spades.
Closest in style to B.C. but easier to digest, the registration, licensing and highway regulations come under the joint jurisdiction of two different departments of Saskatchewan Government Insurance (SGI). A wealth of easy to understand information for individual RVers can be found here and here. I can't stress enough how important it is to avoid inconvenient problems and fines by checking in advance the rules that apply in all of the jurisdictions along your route.
Hoping not to sound preachy, my own advice is that it's far better to be over-prepared than to miss something critical to your own safety and that of the other drivers on the road . . . to say nothing of the fact that when people—innocently or not—don't obey the regulations and have accidents, insurance companies are only too happy to reject the claims.