Being safer than sorry takes just a few minutes
Are you prepared if an emergency happens?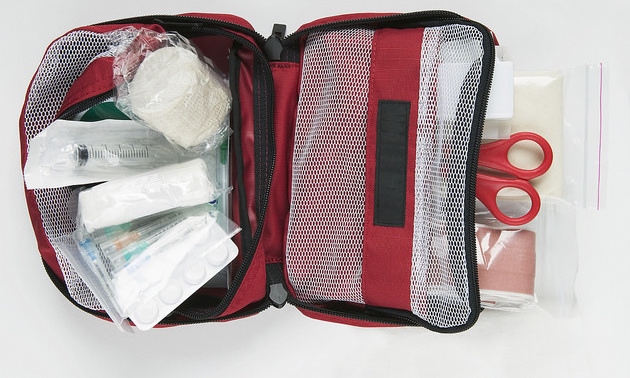 If you're like me, you grumble every time the bank deducts home and extended health insurance premiums from your checking account. "There goes another $134 with nothing to show for it!"
Then, if you unwisely voice the grumble out loud, you sit quietly while a significant other–in my case, a son-in-law–launches into a lecture about why premiums are necessary evils and how much you'd lose if you got sick or had no insurance when your house burnt down.
"Yeah, yeah, I know all that; that's why I keep paying" is my usual childish reply.
What is my point you ask? Well, it's because the two lists of first-aid supplies below again suggest you prepare for the worst even while expecting the supplies will never be needed.
Subject to some of your own suggestions, the items on the first list would be sufficient for less active 55-plus RVers traveling close to all amenities. But while those items are useful to have on hand, the second list adds items that should be carried by more venturesome RVers–serious cyclists, hikers, off-road ATVers and others.
The lists are considerably longer than you might find in a typical, small-boxed first aid kit available in most local pharmacies or big-box stores. My reasoning is that, due to the increasing number of unpredictable weather events and because travelers today are more venturesome, potential emergencies–like the mudslide on California's Interstate 5–may go beyond the type that can be handled with a few Band-Aids or a tube of ointment.
So here, with suggestions shamelessly borrowed from the Canadian Red Cross and Mountain Equipment Co-op, are two trimmed-down lists that should be adjusted according to the number of travelers involved and updated when items reach their best-before dates:
Basic kit:
Band-Aids and sterile dressings–small and large
Scissors and medium or large safety pins
Adhesive tape to keep dressings in place
Ice packs in your freezer to reduce swellings
Insect repellents and after-bite ointments
Anti-bacterial ointment for wounds
Tweezers for ticks and splinters
Supplies of your personal medications–check expiry dates
Chewable low-dose aspirin to use immediately in the event of heart attack or stroke symptoms (see www.heartandstroke.ca/HeartSigns www.heartandstroke.ca/StrokeSigns)
Toilet paper and other personal supplies
Extended Kit:
As much water as you can carry and filters to use in an emergency
A supply of packed energy foods (enough bars to keep each person alive for several days)
Rain or cold gear and a change of clothing if you have room (especially dry socks)
Sturdy shoes–no sandals or flip-flops
Powerful flashlight(s) with spare batteries and flares
Battery-operated two-way radio
Loud whistles
SAM splints to use for suspected fractures and a collar to stabilize a neck injury
A life jacket for every person on your boat
Needless to say, these lists could go on forever if we wanted to prepare for every possible circumstance. Suffice it is to say that, if you are a backcountry or marine traveler, mountain rescue and Coast guard teams urge you to do your homework before you set out.
And most importantly for all travelers, carry your paperwork in a waterproof pouch: identification, a list of your medical conditions and prescriptions, and the phone numbers of your doctor(s) and family and friends to contact in an emergency.
Lastly, be sure to tell an important someone where you are going, the route you will take and when you expect to return, and check in periodically if you make significant changes to your plans.
Bon voyage, stay safe and enjoy!