Self-sufficient on solar—navigating the world of RV solar kits
There are two basic types of solar systems for RVs – fixed to the roof or side of your rig, or portable kits that can be set up, re-positioned, or taken down as needed.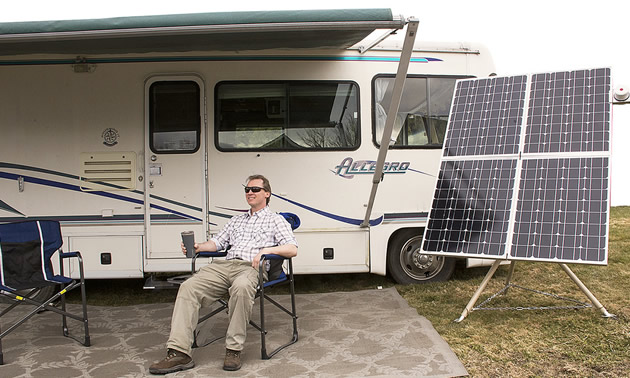 Traveling throughout the continent, RVers who have outfitted their rigs with solar power are in a unique position to be enthusiastic ambassadors for the technology – provided their own experiences with it have been happy ones. Fortunately, if you choose the right kit and install it correctly, you can always be pleased with the result.
There are two basic types of solar systems for RVs – fixed to the roof or side of your rig, or portable kits that can be set up, re-positioned, or taken down as needed.
There are pros and cons for either but two important cautions about wiring and installation apply to both:
Wiring: Some new RVs come pre-wired for solar. Nonetheless, you would be wise to get independent confirmation that the on-board wiring is robust enough to carry the power load you anticipate placing on the system.
Installation: Unless you are a certified electrician who understands RV wiring, even ardent do-it-your-selfers are advised to have a professional install their fixed solar systems. Innocent mistakes can lead to more serious problems than a nuisance loss of power while boon-docking.
Now let's talk about the increasingly popular portable systems for RVs. Being energy-sufficient as you travel allows you more freedom to park wherever you will but now you've made that decision, where do you go from here? Hopefully in logical order, these are the steps to take:
Calculate your power needs. Make a list of every electrical device in your RV. Then, using a sizing calculator like the one at http://gpelectric.com/education/solar-sizing-chart decide the approximate daily amperage draw and number of days you expect to be using the appliances. Better to over-estimate the numbers than to choose a solar system that's insufficient to deliver your required amount of power to the battery.
Solar kits range from 80 watts to 370 watts or higher. The greater the wattage stored, the more self-sufficient you'll be.
Research the brands. Compare their features and services. Make sure you are given the all-in Canadian or U.S. price of a complete system and review the options with your installer.
Positioning your portable solar system
Here, my thanks go to Matthew Longman owner of Kelowna's new Azimuth Solar Products Inc. for helping me understand the term azimuth angle. Otherwise known as solar angle, the sweet spot position for maximum power capture is when the sun's clockwise direction is angled due south at azimuth 180-degrees. In B.C.'s summertime that usually occurs around noon.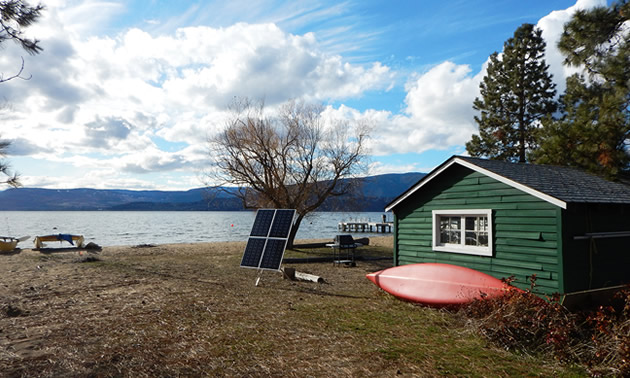 Technical? Yes. But sometimes I like to actually know why I'm doing what I do. The beauty of a portable unit, is that it's easy for an RVer to maintain optimum power by repositioning the device as the sun tracks away from due south.
Components of today's typical plug-in- and-go solar kits are these:
Portable solar panel(s) and frame
30-amp solar charge controller (anything less than 30-amp would be insufficient for most RVers)
Inverter – converts solar direct current (DC) to the alternating current (AC power) required by household appliances like microwave ovens. (These are built-in to most RV batteries.)
Batteries – your single 12-volt, deep cycle battery is fine but if you have space, a series of two 6-volt batteries will double your available amp hours.
Plugs, cables, connectors and battery clamps. NOTE: If, like mine, your battery compartment is on the awning-shaded side of the RV, be sure to add a 30' power cable to the system's usual 15-footer, to allow your portable kit to be repositioned with the sun.
So that's where portable RV power stands today – but stay tuned for the major leaps forward Matthew hints are only a few months away. In the meantime—Bon voyage!
Helpful Links:
Wholesale Solar—Panel positioning and Sizing Worksheet
GoPower Solar Sizing Guide
Solar Power Basics – Fraserway RV
www.fraserway.com/discover/knowledge-base/solar-power-basics
Twitter: @azimuth_solar
http://solarelectricityhandbook.com/solar-angle-calculator.html