What's in your toolbox?
Make sure you have the tools you need in case of an emergency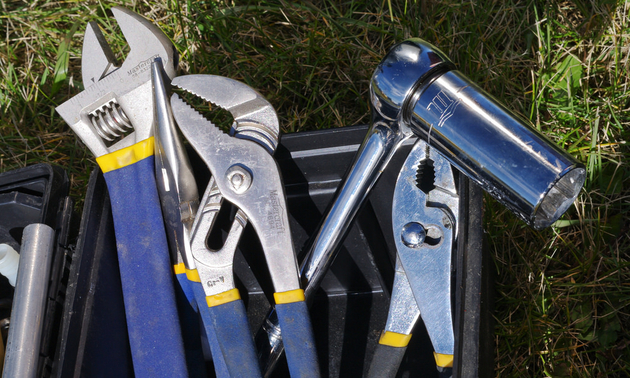 Like a line from Joni Mitchell's Yellow Taxi "You don't know what you got till it's gone," you won't know what you need on the road with your RV it until it breaks or goes missing. An educated guess will get you partway there and 17 years of RV advice will get you the rest of the way.
My suggestion is buy a toolbox and put some of the stuff listed here in it. Take a few minutes or take all winter to consider what you want in your toolbox. I have had only a few urgent issues that required immediate attention while on the road with my RV, but the things that did need fixing, needed fixing immediately. That experience lead me what I now carry in my toolbox.
Crescent Wrench, Adjustable Pliers and Wire Cutters: While some disciplined handymen will likely balk at my choice of adjustable wrenches and demand the full set of box-ends, preferably in both English and Metric, I have a good quality crescent wrench that has rested in my toolbox for 17 years. It works fine for loosening battery bolts in the fall and tightening the nuts on the spare tire holder. The adjustable pliers are called into action when tightening leaking fresh water hose connections or pulling sticky hitch-pins.
Multi-head Screwdriver: This single handle multi-head tool works in a pinch for removing overhead vent screens to clean up dead flies or remove the wood panel to disconnect the water the hot water heater for winterization and again to get road ready in the spring.
Coleman Lantern Mantels and Spare Pump Parts: Some years I never replace a mantle. Some seasons I replace three. Having a couple of spares means you will always have a bright light to use. Every decade or so the pump innards of the Coleman needs replacing. I keep a spare one in the tool box.
Replacement Sparker Flints: For my propane torch igniter. This is a tiny item but every few years I am replacing my flint and with one in the tool box, finding the correct replacement is easy.
Light Bulbs: My tool box contains various trailer marker light bulbs, signal and brake lights as well as interior bulbs––just in case.
Half-inch Drive Ratchet and Specialized Socket: I carry a perfectly matched socket head for the water heater core plug-bolt. For me a half-inch ratchet is worth the expense specifically to remove and install the water heater plug. It cost a few bucks but saves me the semi-annual barking of my knuckles when removing and installing the water heater plug.
Water Heater Plug and Sacrificial Post: Your sacrificial post for the water heater should last you five years. But one year I ruined the plug by cross threading it in the water heater. The spare was easily installed from from my toolbox.
Tape: Electrician's, Plumber's and Duct Tape: Three kinds of tape are stocked in my toolbox: insulated vinyl electrician's tape to cover exposed spliced wires for hitches or chords; white silicon plumbers tape to keep hose and water tank plug connections leak-proof; and a roll of Red-Green-endorsed duct tape for a myriad of solutions waiting to be deployed.
Direct Current Charging Connector and Alligator Clips: My Honda generator can be connected directly to my trailer battery for more efficient direct-current charge. This is where I keep these cords.
Battery Post Cleaners: You can find battery post and cable wire brush cleaners at your hardware store. Mine comes with male and female ends designed to brush the crud off battery posts and connector cables. I clean mine every time I hook up the dual six-volt batteries.
Hand Crank for My Power Jack Head: Simple, I keep this crank where I can find it.
Assortment of Connectors: I keep a selection of pins, posts, clips and connectors for my rig. At some point a pin or clip is going to go missing. Keep some spares right there.
Assortment of Bolts, Screws, Nuts and Anchors: Clumsy guest knock the toilet paper holder right off the wall? No problem––if you have some spare anchors and screws in the toolbox. WD-40: If it squeaks or rusts, spray it with this.
Adhesive-backed Spirit Level: The spirit level indicators on my trailer seem to have a life of about five years. When mine breaks, I will be ready.
City Water Connector: That little brass controller that connects city water input and your trailer water intake can save your water lines from bursting pressure.
Spare Power 110 V Adapter: It seems like I lose one every year or one of my camping partners is missing theirs.
Box-cutter Knife: I keep a heavy duty adjustable box cutter and some spare blades in my tool box. This knife will trim shredded outdoor mats, remove the tag of vinyl from the overhead awning or just cut boxes for disposal.
Palm-sized Axe Stone and Honing Oil: Lansky makes a delightful puck-sized sharpening stone that fits in the palm of my hand. When used with honing oil, this stone will put an edge on your axe that will make you the envy of your fellow campers.
Flat Bastard Medium Coarse File: This file is about the size of a ruler and comes in handy when you need to take the rough edges off a steel pin or post. There might be four trips in a row where I never open my toolbox and then there is a trip where every hour some important RV problem is solved directly from the contents of this little black box. My strong recommendation is you buy a medium sized tool box and dedicate it to sole use in your RV. Stock the box with things from this list that make sense to you, and add some more for what you think you will need.